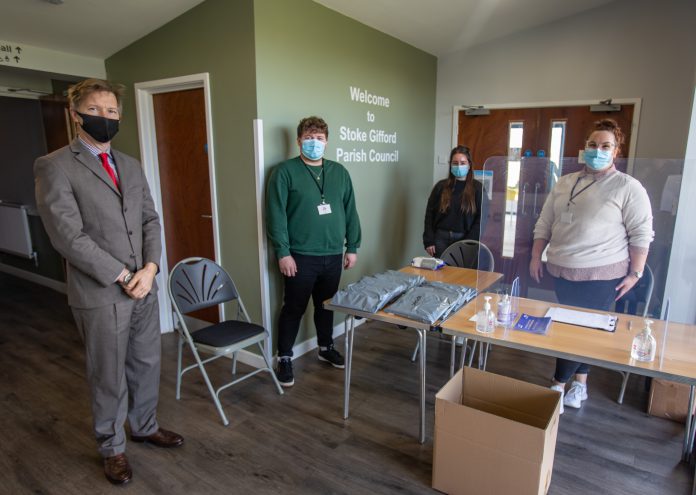 The Surge testing programme in five postcode sector areas in Bradley Stoke, Little Stoke and Patchway will end on Sunday 14 March. Any eligible residents living, working or in a support bubble with anyone in those locations who have not yet taken a test are being asked to please take part if they can.
The two surge testing facilities in Stoke Gifford and Patchway (open from 9:00AM – 6:00PM) are available, as are the five community-based Collect & Drop sites (open from 9:00AM – 5:00PM), from where people can collect a home testing kit and return it. No booking is necessary.
Over the past week we have also written directly to more than 2,000 residents in the target areas, including those who are shielding or have mobility issues, for example, to offer them a test kit to be delivered to and then collected from their homes.
Those who have collected a test kit and completed it are also encouraged to return it for processing as soon as possible. Completed tests can be returned to the Collect & Drop sites until the end of the day on Tuesday 16 March.
The surge testing was put in place following the identification in the area of a Covid-19 Variant of Concern first identified in Manaus, Brazil (P.1). Through extensive enhanced contact tracing work, following their detailed investigations, PHE and the council have identified a small, contained group of contacts around the confirmed cases of the Brazilian variant.
PHE have announced that three additional cases have now been confirmed, in people who are directly linked to the already-known cases.
While the risk to the community of ongoing transmission remains low, the surge testing programme will allow us to identify any cases of asymptomatic Covid-19 in the targeted areas, with all positive PCR tests undertaken in these areas during the surge period being sent for further genomic sequencing to identify the specific variant of the virus present.
Around 15,000 people have so far taken up the offer of a test as part of the surge programme, and we want to thank them all. Fortunately, only around 20 tests have been positive, which shows that our ongoing efforts to stop the spread of the virus are working. But, every case detected, particularly among those not showing any symptoms, helps us to prevent the disease infecting others in our communities.
Deputy Leader of South Gloucestershire Council, Councillor Ben Stokes, visited the Little Stoke Community Centre Collect & Drop site this week and met with the staff handing out and collecting test kits to thank them for their work in setting up the programme so quickly and effectively, and also to thank the public for playing their part in controlling Covid-19.
Councillor Stokes said: "The efforts of our communities in following the guidance to keep themselves, their loved ones and those in their neighbourhoods safe has been a real source of hope and inspiration over the past year. The work and dedication of council staff on the front line and behind the scenes to play their part has been a source of pride for me as well.
"We are most definitely moving in the right direction. The number of new cases is continuing to fall and, most happily, the number of people requiring hospital treatment and being very sick from the virus is also slowing down. It is vital that we aren't complacent and that we recognise the disease is still out there and that we need to keep observing Hands-Face-Space to keep everyone safe, but with everyone's ongoing commitment to stay the course while the vaccine roll-out continues we are able to see our end goal in sight.
"Surge testing is really important to us, which is why we are so pleased that so many people have already come forward. It helps us stem the spread, but it also adds to our understanding of the virus to improve our ability to tackle it now and into the future.
"As we continue to follow the road map, regular testing will become the norm for most of us so that we can rapidly get on top of any new infections, which is why I am so encouraged by the number of people who have shown they are still ready to play their part in this programme. Thank you."
Mike Wade, Acting Deputy Regional Director for Public Health England South West said: "These additional cases are all close or household contacts of the two existing P.1 cases in the area. They were offered testing in response to the initial cases.
"The important thing to remember is that Covid-19, no matter what variant it is, spreads in the same way. That means the measures to stop it spreading do not change. Stay at home and if you do need to go out for essential reasons, cover your nose and mouth, wash your hands thoroughly and keep your distance."
"In addition, please do take up the offer of the vaccine if you've been invited. Vaccine protects against the most severe cases and Covid 19 related deaths."
Rapid 'lateral flow' testing is already available to those living and working in the Bradley Stoke, Kingswood and Yate areas, with those unable to work from home across the district also being asked to take part. This is different to the surge testing programme and people are encouraged to take these tests twice a week.
In line with schools reopening, the parents of school and college students are now being offered testing using the rapid tests, which are the same test being used by children in school. Currently you can take a test in person by booking a slot at our existing sites, where staff will explain how the process works and register your kit so you get an email or text with your result in less than an hour.
You can also choose to have a supply of test kits delivered to your home from the Government website Schools and colleges testing: order coronavirus (COVID-19) rapid lateral flow home test kits – GOV.UK (www.gov.uk). We are working hard to also provide options for you to collect a supply of kits from locations across South Gloucestershire and details of these options will be published next week.
Information about the Surge Testing programme will be updated on our website at www.southglos.gov.uk/surgetesting.
The identified postcode areas fall within Bradley Stoke, Patchway and Little Stoke and are different to those that were part of the community surge testing programme which took place between 7 and 21 February. There is no connection between the two programmes.
The postcode sectors are:
• BS32 0
• BS32 8
• BS32 9
• BS34 5
• BS34 6
Testing is available in a number of ways. Two community surge testing sites, open 9:00AM – 6:00PM, seven days-a-week, until Sunday March 14, are primarily designed for vehicles, but walk-through testing is also available:
• Parkway North Park & Ride, Hunts Ground Road, Stoke Gifford, BS34 8PU
• The Mall Coach Park, The Mall Cribbs Causeway, Highwood Rd, Patchway
BS34 5SP
Additionally, five community-based Collect & Drop locations are open from 9:00AM – 5:00PM, seven days-a-week, until Sunday March 14. These allow residents to walk-in to collect a test kit, take it home and complete the test there, register the test, and return it for processing. While collections will end on Sunday 14 March, completed kits can be returned to those sites until 5:00PM on Tuesday 16 March. These locations are:
• Little Stoke Community Centre, Little Stoke Lane, BS34 6HR
• Patchway Community Centre, Rodway Road, Patchway BS34 5PF
• Baileys Court Activity Centre, Baileys Court Road, Bradley Stoke BS32 8BH
• Bradley Stoke Jubilee Centre, Savages Wood Road BS32 8HL (this site will not be open on Friday 5 March)
• Coniston Community Centre, The Parade, Patchway BS34 5LP
Details of the PHE announcement in relation to the additional cases of the P.1 variants can be found here: News story – https://www.gov.uk/government/news/confirmed-cases-of-covid-19-variants-identified-in-uk
Data page – https://www.gov.uk/government/publications/covid-19-variants-genomically-confirmed-case-numbers/variants-distribution-of-cases-data