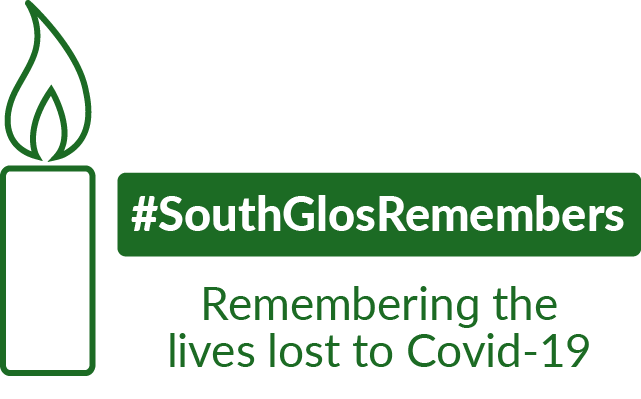 As we reach the anniversary of the start of the first national lockdown, on Tuesday 23 March, we will pause to remember those who have died and those who have been deeply affected by the Covid-19 pandemic.
For some of us, the impact of the coronavirus was felt before we went into lockdown, but for many, this new illness really became part of our lives a year ago, and it has impacted so much of the way we live, work and relate to our loved ones and communities ever since.
Individuals will mark their losses in their own ways, of course, but as a council, we will mark the anniversary with a minute's silence to remember those who have died at 12:00 noon on Tuesday 23 March.
We are also suggesting to residents that they post memories of loved ones on the St Paul's Cathedral 'Remember Me' online book of condolence, as well as adding their thoughts on the past year as part of a #SouthGlosRemembers tribute on the council's social media channels.
Many of the normal rituals, such as funerals, have been disrupted by Covid, but we know that people will want to have that virtual coming together to remember the lives of people who have died and hopefully they will take some comfort from this shared act of remembrance. #SouthGlosRemembers will be a public opportunity for residents and communities to share and celebrate the legacy of those we have lost, but who will not be forgotten.
We will also be thinking about the longer-term impact of Covid. Not just on those who are left behind, but also any who may be feeling the long-term physical effects of the illness.
At the same time, hopefully there are also many moments that people will be able to reflect upon that are positive. The way that, as a community, we have responded to the challenges we have all faced together.
The establishment of so many community groups to support neighbours and those in need, for example. The way that so many council services and those of our partners, have been adapted to ensure that despite the restrictions, support and the usual things that we all rely on have still happened and essential services have continued to be delivered.
We will remember how schools and teachers have had to adapt to providing lessons online and how the work of so many key and critical workers has been highlighted as invaluable in getting us through the past year.
South Gloucestershire Council Deputy Leader, Councillor Ben Stokes, said: "The past year has been incredibly difficult for all of us, but for none more so than those who have lost loved ones to the pandemic. Their memories will live on, but we recognise that so many of the rituals or remembrance that traditionally form part of the grieving process have not been possible, which has made hard times for many even more difficult.
"That is why we want to encourage those who wish to, to take part in #SouthGlosRemembers and to share memories of people who have passed over the last year through the online Remember Me book of condolence, which is, importantly, also a celebration of life.
"The council will pause to remember at midday on Tuesday 23 March as we mark a year since we first went into lockdown, but I know that the impact of the pandemic will be felt by all of us in different ways potentially for years to come.
"That is why it is also important, I think, to remember some of the undoubtedly positive things that have happened over the past year. The reaction of individuals and communities in coming together to help each other has shown the best of us and, while tinged with sadness too, I hope that is the real legacy of what we have been through together.
"We know that, even as we follow the road map to the eventual lifting of restrictions, we are not out of the woods yet. The vaccine roll-out has gone tremendously well so far and, in addition to ongoing and routine testing for more and more of us, as restrictions are lifted in stages, we can now begin to feel that the end of restrictions is in sight.
"It is vital that, to protect the legacy of those who have died, and the wonderful and heart-warming tales of community-spirit, and the reaching out to help friends and strangers alike if they were in need, that we stay the course for what we hope are the final few months of the pandemic and continue to follow the rules of hands, face, space.
"March 23 is just one day on which we will remember those who have died, but their memories, and the memory of the amazing way that the people of South Gloucestershire have responded over the past year will, we hope, live on for many years to come."