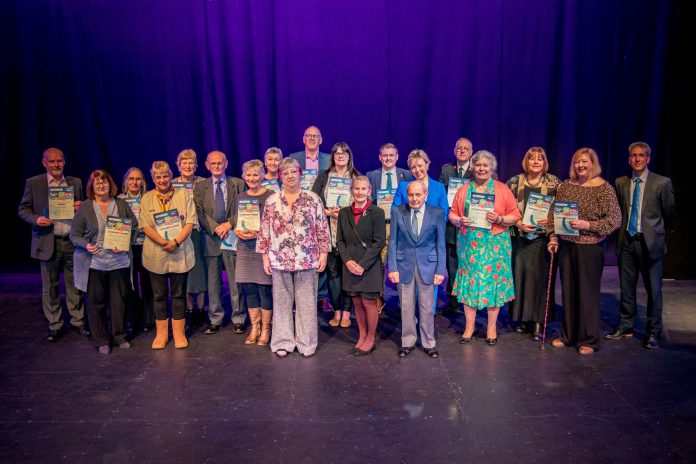 Unsung heroes from across South Gloucestershire have been presented with a Chair's Community Award to celebrate the selfless and valuable contributions they make as unpaid volunteers.
The annual awards are held by South Gloucestershire Council to recognise and thank local volunteers who willingly give up their time to help others and bring communities together.
Chair of South Gloucestershire Council, Cllr Ruth Davis presented the awards along with the Deputy Lord Lieutenant of Gloucestershire Susie Hewson, Group Chief Executive & Executive Principal of South Gloucestershire & Stroud (SGS) College Kevin Hamblin, and Principal and Deputy Chief Sara-Jane Watkins.
The event is sponsored and hosted by SGS College and offers an opportunity to celebrate the hard work and dedication of volunteers in our communities who display outstanding commitment in giving their time and effort to help others.
Eighteen deserved winners from diverse range of voluntary backgrounds were recognised, but all shared a common characteristic of dedicating their time to support others without asking for anything in return.
Cllr Ruth Davis, Chair of South Gloucestershire Council, said: "It has been an absolute pleasure to meet and recognise the volunteers who make such a significant and important contribution within South Gloucestershire.
"Volunteers have been a vital lifeline for many residents through the pandemic and I was moved to learn of people's selfless actions which became a real beacon of light for those who were coping with the effects of Covid-19. Despite the challenges posed by the pandemic, many volunteers managed to continue with their voluntary work to support our public open spaces and local wildlife, which is testament to their commitment.
"It's important that we shine a light on the work of our local volunteers who do so much to help others. These people are community heroes and I personally thank each of them for their efforts."
SGS College Principal, Sara-Jane Watkins said: "SGS College were delighted to sponsor and host the Chair's Community Awards. The winners hard work and dedication this year has shone through. They make such a difference to their local community and should be tremendously proud of themselves. This event highlights the good work the volunteers do, and it was a pleasure to meet them all."
The final award to be presented during the evening was the Lord Lieutenant's special award, which was presented to Steve Riches. Steve has been a school governor since 1998 and his primary focus is always on what is best for the children. In 2013 Steve helped establish the Resound Foodbank in Emerson's Green, where he works with donors, local agencies, and the North Bristol Trussell Trust.
For further information on the Chair's Community Awards visit: www.southglos.gov.uk/communityawards