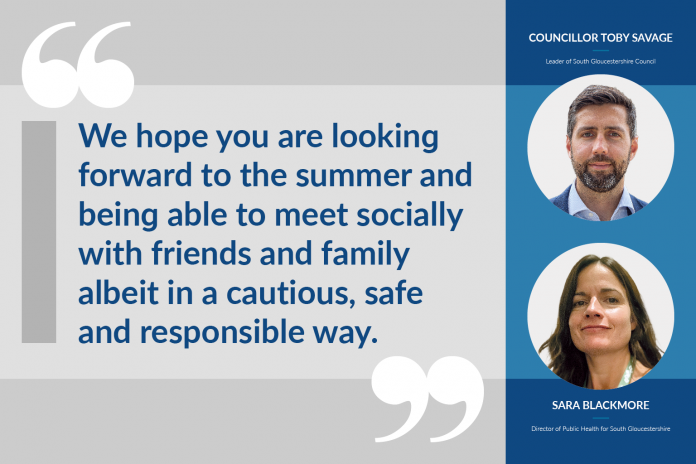 Yesterday, Monday 12 July, the Government confirmed its plans for lifting the remaining Covid-19 restrictions on 19 July, emphasising the need to proceed slowly and with caution and for the public to take personal responsibility to protect themselves and others through informed choice.
Director of Public Health for South Gloucestershire, Sara Blackmore and Leader of South Gloucestershire Council, Toby Savage have echoed the Prime Minister's statement warning residents that the pandemic is not over, that infection rates continue to rise in South Gloucestershire, that there continues to be significant risk to residents from the disease and urging everyone to continue to observe the safe behaviours that we have been following.
Sara Blackmore and Toby Savage said: "As we learn to live with Covid as a country, we are moving away from an approach based upon legal restrictions and towards personal responsibility. This is important because in South Gloucestershire, our community infection rates continue to rise and there has been an increase in the number of hospitalisations from Covid-19. Our rates of vaccine uptake are generally high but we are seeing a marked slowdown in the number of younger adults coming forward and it is within these age groups that we are seeing the biggest increases in cases.
"We are urging extreme caution, and advising residents to continue to:
Come forward when invited for both doses of the vaccine
Wear a face covering in enclosed and crowded spaces where you come into contact with people you don't normally meet or where it will make you and others feel more comfortable
Try to meet outdoors or in well-ventilated indoor areas
Self-isolate and get a PCR test if you have symptoms
Self-isolate if you test positive or are told to do so by NHS Test and Trace. This remains a legal requirement
Take a regular rapid test twice a week if you don't have symptoms. Wash your hands with soap and water or use hand sanitiser regularly throughout the day
Cover your nose and mouth when you cough and sneeze
Stay at home if you are unwell, to reduce the risk of passing any illnesses onto friends, family, colleagues, and others in your community
Be kind, courteous and considerate of others – take into account not only your own risks, but also of those around you, such as those with clinical vulnerabilities.
"We have all been impacted in so many different ways and it is as important as ever that we work together to keep the virus under control, with everybody following the guidance and taking action to protect themselves and to protect others.
"Thank you for your efforts to keep yourselves and others safe over the past 18 months. We hope you are looking forward to the summer and being able to meet socially with friends and family albeit in a cautious, safe and responsible way."
Full details of all the ways to access testing are available on our website: Testing and self-isolating | BETA – South Gloucestershire Council (southglos.gov.uk)
For dates and times of upcoming walk-in, appointment-free vaccination clinics around our region or to click through to the national booking system to book your vaccine visit www.grabajab.net
Full details of the financial support available if you need to self-isolate or your income has been effected during the pandemic are available on our website: Financial support for residents | BETA – South Gloucestershire Council (southglos.gov.uk)
A number of organisations and local groups are still working actively in their communities to help those who need support as the long-term impacts of the coronavirus continue to be felt. Full details of these groups, including contact details, are available on our website: Get help and support | BETA – South Gloucestershire Council (southglos.gov.uk)