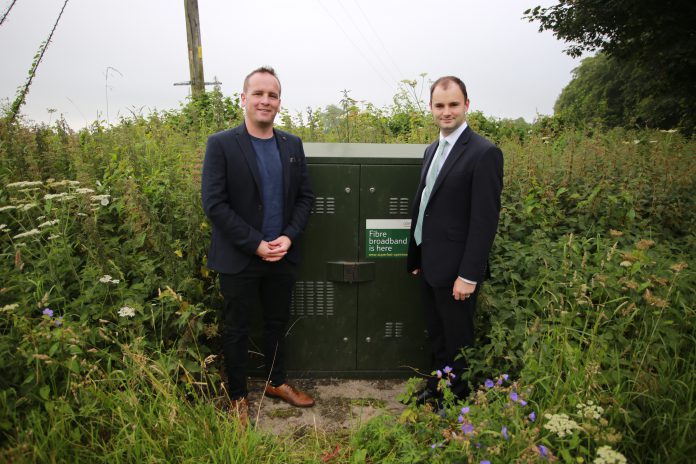 Even more people in South Gloucestershire are set to benefit from our ongoing rollout of Full Fibre broadband infrastructure, with a number of additional rural communities and premises announced as the latest to receive the upgrade, including properties in Chipping Sodbury, Coalpit Heath, Cromhall, Falfield, Lansdown, Little Badminton, Rangeworthy, Tockington, Tormarton and Yate.
The take-up of the newly-installed fibre broadband services across the whole of South Gloucestershire has been excellent – we are currently seventh in the country in regard to take-up, and have the highest levels of take-up in the South West region*.
The new additions to the rollout will all be able to benefit from access to 'fibre to the premises' (FTTP) or Full Fibre. Full Fibre offers ultrafast broadband speeds of up to 1 GB over a reliable, fibreoptic connection straight from the exchange to the subscriber's premises.
Many of the homes and businesses included in this latest phase are already able to contact their provider to upgrade to a fibre connection/the fibre broadband package of their choice. Others are still in the commissioning or build stage, with this phase of the rollout due to be fully complete by March 2021.
Residents can use the Openreach fibre checker (www.openreach.com) to what infrastructure is available at their address, and the checker will change to 'Available' once the build has been completed.
Cabinet Member for Corporate Resources Cllr Ben Burton said: "We are pleased to announce this latest phase in our broadband programme which will deliver superfast fibre connections to even more hard to reach rural properties.
"We are working to ensure that no part of the community is left behind. We understand how important broadband is for people, especially those running rural businesses, so we are very pleased to help even more of our residents get connected to a faster service. In the areas where we have not been able to help so far, we have been trying to find alternative ways to support these communities and we will continue to do all we can until everyone in the area has access to good speeds."
Thornbury and Yate MP Luke Hall said: "It is fantastic that this funding is being used to ensure some of our most rural communities have access to super-fast broadband, allowing local people to work more effectively from home, school children to complete their studies and families to remain in contact with loved ones, enjoy watching films and browsing the internet.
"Ensuring our communities stay connected is a major part of my Positive Plan for our region and I will continue campaigning for the remaining homes to receive these important upgrades, and for our area to benefit from any future improvements."
Connie Dixon, Regional Partnership Director for Openreach said, "Lockdown showed us that having great connectivity has never been more important. The Openreach network carried around 60 per cent more traffic in the South West in May this year than it did in February – and it didn't skip a beat. It stood the test of home-working and home-schooling and, through our partnership with Connecting South Gloucestershire, thousands of homes and businesses can upgrade to the best broadband available – Full Fibre."
The partnership between South Gloucestershire Council, BDUK and Openreach has already made better broadband available to over 22,000 homes and businesses across the district since it began in 2013. This latest announcement will take superfast broadband coverage from 96 per cent to 99 per cent coverage across the region by 31 March 2021.
The list of premises covered in this latest phase is available at www.southglos.gov.uk/phase3b-premises
For more information about broadband in South Gloucestershire visit www.southglos.gov.uk/broadband
*According to Thinkbroadband https://www.ispreview.co.uk/index.php/2020/05/bduk-project-uk-superfast-broadband-take-up-to-h2-2019.html