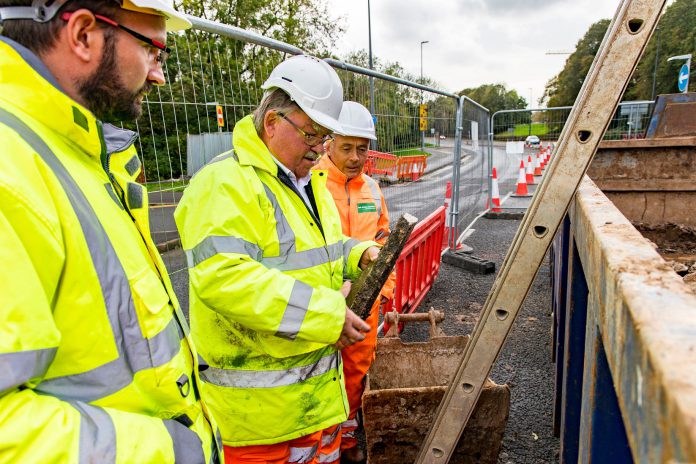 Nine key roads in South Gloucestershire have been future proofed as a massive programme of flood resilience work by South Gloucestershire Council draws to a close.
The three-year project has enabled six miles of severely damaged drainage systems to be repaired or replaced – including those where the potential impact of flooding would have been very significant.
The £3.7 million Climate Resilience Project has involved huge scale projects to ensure the highway drainage system is functioning effectively and with maximum allowable capacity. This will in turn improve the road network for local communities, reduce the risk of accidents and reduce the need for road closures to carry out ad hoc maintenance.
The project was started in 2020 due to the significant impact of climate change, increasing both the likelihood and severity of flooding.
The following sites were identified for their inadequate drainage infrastructure, deteriorating road surfaces, increased accident risk and a potential detrimental effect on travel. Some carriageways were in such a poor condition there was a danger of collapse.
Gipsy Patch Lane, Patchway
Perrinpit Road, Frampton Cotterell
Coldharbour Lane
Bristol Road, Frenchay
New Avon Bridge, Keynsham Road
The Downs B4509, Wickwar
Yate Road, Iron Acton
Old Gloucester Road, Winterbourne
Kington Lane, Thornbury.
Many of the projects have used innovative solutions for the first time and will set the precedent for future work in South Gloucestershire.
At Gipsy Patch Lane, pipes were filled with glass-fibre reinforced plastic to maintain the capacity of cracked pipes, and at Coldharbour Lane workers tunnelled the length of 80 metres following the line of a badly damaged pipe under the A4174 Avon Ring Road.
The final project has been Old Gloucester Road in Winterbourne, where severely damaged underground pipes have been replaced. A remote-control root cutter was also used to clear invasive roots from the pipes and then a specialist technique employed to place a liner within the damaged pipe. This effectively creates a new smooth pipe, within the old, damaged one.
The work has been funded by £3.2 million from the Government, under the Department for Transport's Local Highway Maintenance Challenge Fund Scheme, combined with a further £500,000 from the council's road maintenance budget.
Councillor Steve Reade, cabinet member responsible for transport at South Gloucestershire Council, said: "We're very pleased to say this Climate Resilience Project has been completed successfully and within budget. It has been a huge undertaking but essential to ensure that we keep our roads better protected from flood risk.
"We will of course keep up the good work and continue to make improvements to the drainage systems of our highways when needed to ensure that we have a safe and reliable network.
"Our recently approved budget for 2022/23 includes an additional £1 million for highways maintenance and £1.5 million to deliver further progress on the council's response to the climate emergency."
Whilst working at many of these sites, the council also took the opportunity to incorporate carriageway resurfacing, as well as filling in potholes and hedge trimming.