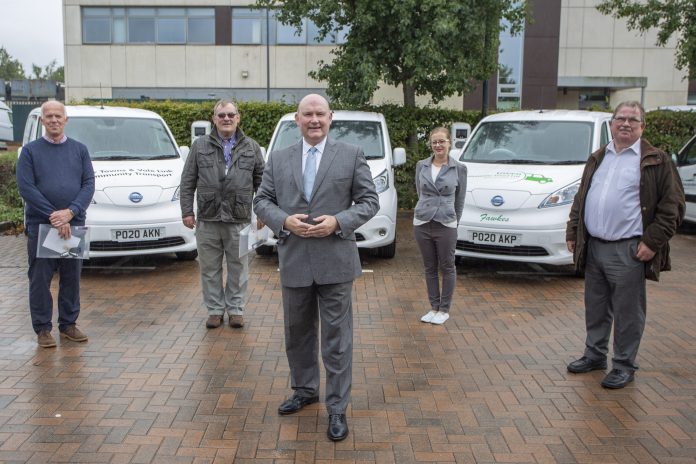 Community transport operators in South Gloucestershire received the keys to their new electric vehicles (EVs) yesterday (Thursday 6 August) from officials at South Gloucestershire Council (SGC) and the West of England Combined Authority (WECA).
Representatives from Kingswood Community Transport, Green Community Travel in Yate and Four Towns and Vale Link Transport in Thornbury were joined by West of England Mayor Tim Bowles and SGCs Cabinet Member for Transport Cllr Steve Reade for the official handover.
The three operators each received a brand-new Nissan ENV WAV (wheelchair accessible electric people carrier) to use for their local services, which will help to reduce harmful emissions, as well as reducing ongoing maintenance costs. Each new minibus has been liveried with the branding of the individual operator.
The new EVs form part of a fleet of fifteen vehicles being provided to South Gloucestershire's community transport operators this year, bringing the total already supplied to nine. SGC secured £740,000 of funding for the vehicles in 2019, which comes from the West of England Local Enterprise Partnership through the Local Growth Fund, administered by WECA
The funding has been used to purchase six new Mercedes Sprinter minibus which were handed over at the beginning of March 2020. Delivery of the remaining six Peugeot Boxers scheduled for this summer has been impacted by the COVID-19 pandemic, as factories now restart, delivery of these new vehicles is expected by the end of the year.
Cllr Steve Reade, Cabinet Member for Planning, Transport and the Strategic Environment, said: "We are delighted to present our community transport operators with these new electric vehicles. The operators are all 'not for profit' organisations that have been impacted by reduced income and service during the coronavirus pandemic, so these vehicles come at a much-needed time and will help them survive this impact and continue to provide their valuable service to our residents.
"This will also complement our climate change ambitions as electric vehicles play a part in reducing harmful emissions on our local roads and improving air quality."
West of England Mayor Tim Bowles said: "Community transport offers a vital lifeline for our residents who otherwise may not be able to get out and about. I'm determined to ensure that we help our communities to keep connected safely – especially overcoming the challenges of COVID-19. It's great to see our Local Growth Fund being used for these new community minibuses which will play their part in getting the region moving, and support my ambitions for clean and inclusive economic growth in the West of England."
Nigel Davis, CEO of Four Towns and Vale Link Transport, said: "We are extremely grateful to South Gloucestershire Council to receive this vehicle, which we intend to use on our ever-increasing medical journeys, to GP practices and to the major hospitals in our area. It will greatly assist us in lowering our operating costs and reduce our carbon footprint when working in these areas and provide greater space and accessibility for our less mobile charity service users."
Jenny Bright, Green Community Transport Manager, said: "We are thrilled to receive this wonderful electric accessible vehicle, we are so grateful to WECA for their support to South Glos Community Transports, a huge thank you also to South Gloucestershire Council who have submitted this bid for us. It seems appropriate we have a 'green' vehicle to match our name! We will use this to help our passengers get to hospital and we're really pleased it will also benefit the environment. We took 35 people to their appointments in July so hope to get the new car rolling in the next week or so!"
Community transport operates across South Gloucestershire providing a variety of services to help people who cannot use public transport due to lack of availability or for people without access to suitable transport.
During the pandemic community transport groups have continued to provide a limited service for essential shopping, medical appointments and emergency deliveries of food parcels and medicines. From August all the community transport groups are introducing local trips with reduced numbers.
For more information about community transport in South Gloucestershire visit www.southglos.gov.uk/communitytransport