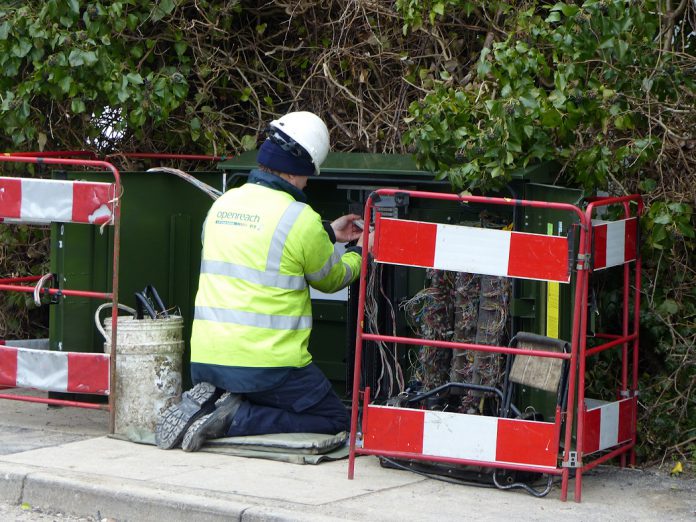 Even more people in South Gloucestershire are set to benefit from our ongoing rollout of broadband, after contracts were awarded for the next stage of our programme.
The service will be provided following a successful bid by South Gloucestershire Council for funding of £2m from Broadband Delivery UK and £1m from the West of England Local Enterprise Partnership.
Following a robust procurement process, which saw an invitation to tender launched at the end of last year, the contract to deliver the service was awarded to BT.
The investment we have secured will bring ultrafast and Next Generation Access broadband to approximately 4,300 homes and businesses in South Gloucestershire by the end of 2018.
Communities to benefit in the latest phase of the programme include some rural areas not previously covered by the rollout and remaining communities from the previous two phases, including: Almondsbury, Alveston, Aust, Bitton, Bromley Heath, Cold Ashton, Cromhall, Dodington, Downend, Doynton, Falfield,  Frampton Cotterell, Hanham Abbots, Hanham, Hawkesbury, Horton, Iron Acton, Kingswood, Marshfield, Olveston, Patchway, Pilning, Severn Beach, Pucklechurch, Rangeworthy, Rockhampton, Soundwell, Siston, Sodbury, Tormarton, Tortworth,  Westerleigh, Wick, Abson, Wickwar, Winterbourne and Yate.
All areas are subject to the standard survey and planning work which will need to be carried out.
This will revolutionise daily lives for many people across South Gloucestershire with access of up to 1,000 mbps with the rollout of ultrafast broadband combined with Next Generation Access speeds of more than 30mbps using Fibre to the Cabinet (FTTC) technology.
Cllr John Goddard, Cabinet Member for Corporate Resources, said: "So far, more than 20,000 homes and businesses have been able to access fibre broadband as part of our rollout across South Gloucestershire.
"We have always said that we are committed to providing an improved broadband service to as much of the district as possible and this latest investment could see up to 99 per cent of premises covered when combined with the commercial programme. Once complete, thousands more homes and businesses in more rural areas are set to benefit from a service that would not have been available without the council's continued efforts to bring about these improvements."
Minister of State for Digital, Matt Hancock said: "The transformation of the digital landscape in South Gloucestershire to date has been tremendous, but there's still more to be done. I'm delighted that another 4,300 local homes and businesses are now going to benefit from a faster and more reliable broadband service, ensuring they can get the fast and reliable connectivity they need, both now and for the future."
Steve Haines, managing director fibre broadband at Openreach, said "We're delighted to be continuing our strong partnership with South Gloucestershire Council to bring superfast broadband to more than 4,300 additional homes and businesses in the area with around 3,800 of these properties benefiting from ultrafast broadband. This will build on the extensive roll-out we've already carried out in South Gloucestershire that has seen access to superfast broadband being provided to thousands of properties."
"To be awarded this contract is further recognition of the hard work engineers from Openreach, Britain's digital network business, have already done across South Gloucestershire in building a fast reliable broadband network. Now we can go even further and, working in collaboration with South Gloucestershire, bring some of the fastest speeds available in the UK to even more properties in the district."
Work to provide the service will start later this year with more information on when communities will be able to benefit from the final phase of the rollout publicised in due course.
For more information about broadband in South Gloucestershire visit www.southglos.gov.uk/broadband