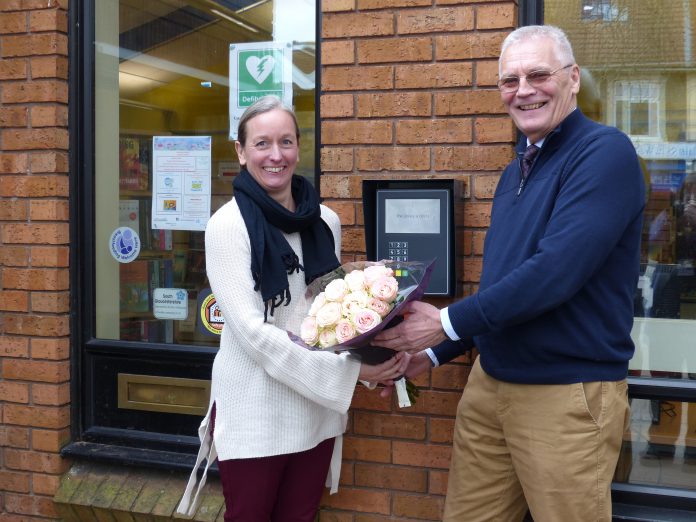 Hanham library has become the latest in South Gloucestershire's to offer residents the use of its facilities seven days-a-week, thanks to the installation of Open Access technology.
The introduction of the system at Hanham Library also marked the fact that more than 5,000 people have now registered to use Open Access in South Gloucestershire's libraries.
Since Open Access was launched in South Gloucestershire in October 2017, registered users have visited our libraries more than 40,000 times. Feedback from users has been positive, with 88 per cent of users attending the introduction to Open Access sessions saying they feel they are helpful and the system is easy to use.
In April, the Kingswood library service will complete its relocation into new space in the Civic Centre, which will also have Open Access technology installed. When Kingswood joins the network, it will mean total opening hours will have increased from 498 hours per week in September 2017, to 957 per week, an increase of 90 per cent.
Hanham resident and Open Access library user, Donna Jarman, who is also a childminder, said: "To have access to computers and books seven days-a-week enables families to make full use of this valued, local community facility."
Councillor Paul Hughes, South Gloucestershire Council Cabinet Member for Communities and Tourism visited Hanham library on Monday and said: "South Gloucestershire Council has a strong reputation, when faced with pressure on budgets and services, for being both innovative and ambitious. Open Access uses the latest technology to actually extend a council service, which so many people see as an important part of our communities. Our investment in this technology means that we now have more libraries open for longer than ever before, delivering better value for money.
"We are committed to providing a high quality library service, which offers both staffed hours delivered by our expert and helpful teams, as well as Open Access hours, to give our residents a choice, but also the freedom to go to the library when it suits them.
"Libraries are the major community resource for access to reading, IT and bringing the community together. I am delighted that Hanham library is now open to this community seven days-a-week."
For more information see www.southglos.gov.uk/openaccess