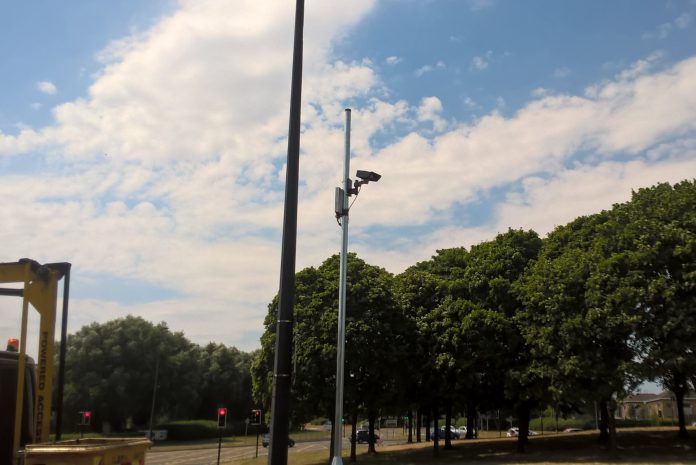 Five new bus lane enforcement cameras have been installed in South Gloucestershire.
The new enforcement cameras are located at:
Bradley Stoke Way junction onto A38/Gloucester Road (southbound)
Regent Street, Kingswood
Filton Avenue southbound onto Station Road
Stoke Gifford Bypass northbound (just before Parkway roundabout)
Bradley Stoke Way northbound (before Patchway Brook roundabout).
The camera at the Bradley Stoke Way junction onto A38/Gloucester Road is now live, and the other four will become operational by the end of July.
These enforcement cameras address the abuse of bus lanes and bus gates by unauthorised traffic and will help ensure the reliability of local bus services.
We have received reports from both bus companies and members of the public that the bus lanes are being abused. Penalty Charge Notices (PCN) will be issued to anyone that infringes the bus lanes and will include a secure web link to a video showing the offence. Each potential infringement will be reviewed by a qualified officer and if there are any mitigating factors, such as needing to pull over for an emergency vehicle, then we wouldn't issue the PCN.
Cabinet Member for Communities Cllr Paul Hughes said: "These new cameras will help us tackle the abuse of bus lanes and bus gates by unauthorised vehicles, and also help ensure that buses and emergency vehicles can reach their destination without unnecessary hold-ups.
"We are not trying to catch anyone out, we want the cameras to be easily visible and we have made an effort to ensure that signs and road markings are as clear as possible to motorists. Hopefully motorists will avoid incurring penalties by not driving in lanes reserved for buses."
The monitoring system uses Automatic Number Plate Recognition to identify unauthorised vehicles and generate penalty notices. As well as ensuring that bus journeys are not delayed, enforcement will also help remove unauthorised traffic that can delay emergency vehicles.
Three further bus lane enforcement sites are being prepared and can have cameras relocated to them if issues arise. These are located at Highwood Road (Patchway) westbound, Bradley Stoke Way southbound (just before Winterbourne Road) and Coldharbour Lane northbound (just before UWE roundabout).
For more info visit www.southglos.gov.uk/buslanecameras