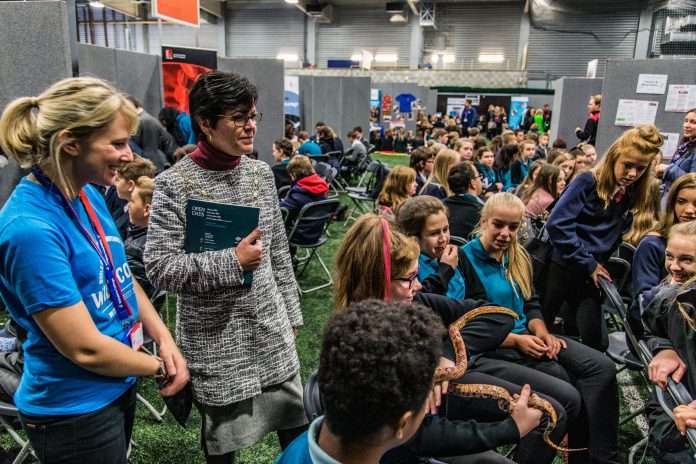 From hi-tech virtual reality applications to advanced medicine and healthcare, students from South Gloucestershire secondary schools and academies got a taste of their future employment prospects at a careers event this week.
Held at South Gloucestershire & Stroud College's WISE Campus on 18 & 19 October, teenagers had direct access to 120 local and national employers along with staff from colleges and universities who were on hand to help guide the students through their future options.
The Ambitions Careers event is organised by South Gloucestershire Council, the University of the West of England and South Gloucestershire & Stroud College (SGS) and has been running for nine years. It is one of the largest events of its kind in the South West with more than 2,000 Year 9 students taking part in interactive workshops with employers and many more attending the evening events with their parents. Ambitions aims to help young people make effective decisions about their future choices in education and employment.
Chair of South Gloucestershire Council, Cllr Erica Williams attended the event. She said: "Ambitions is an inspiration for young people and equips them with the essential skills and knowledge needed to compete for a job in the many cutting edge industries which have a base in South Gloucestershire. Over the two days, this hands-on event provides the students with a unique opportunity to talk to employers and those in higher education about the knowledge, skills and attitude needed to excel in their chosen career."
Johnny Walker, Head of Schools Engagement at SGS College, added: "South Gloucestershire and Stroud College were pleased to be the hosts "Ambitions 2016" at their WISE campus this year for the first time, having been partners of this flagship event from its inception in 2008. It was a delight to hear many South Glos students gasping with amazement at the talents of tap dancers showcasing their talent for London's west end stages, or going hands-on operating a drone for the Royal Air Force. Over two thousand students will now return to schools after half term with a better grasp of what GCSE and post 16 subject choices to study in pursuit of new-found career possibilities."