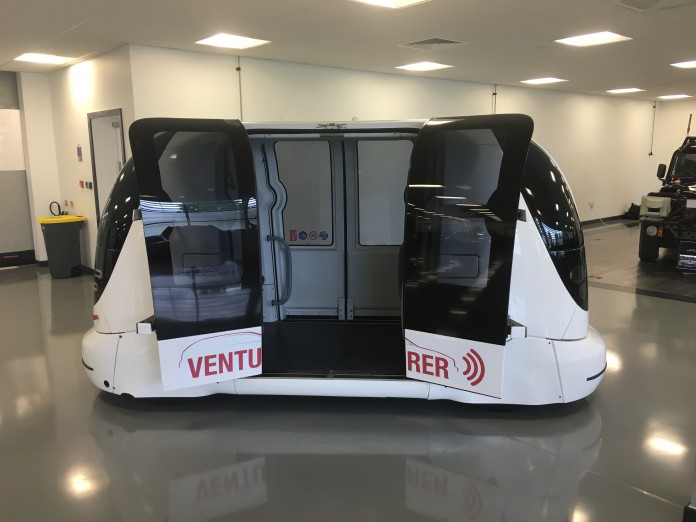 The VENTURER consortium held its first showcase event on Tuesday 24 May to update partners, private sector delegates and attendees from transport and public sector related industries on the project's first year progress.
VENTURER is an Innovate UK funded research and development programme aimed at investigating the barriers to the adoption of autonomous vehicles in the UK and looks to create a local test site facility.
Trialled and tested in the Bristol and South Gloucestershire region, the project will run for a period of 3 years. During this time, VENTURER will systematically assess road users' response to the introduction of 'driverless cars' using a series of increasingly complex scenarios. It will not only aim to understand public acceptance and behaviour, but also the legal and insurance implications of increased vehicle autonomy.
The project will use a combination of state of the art technologies, industry expertise and world-class academic research to develop a market leading capability and independent test site for autonomous vehicles.
The showcase event was held at Williams Advanced Engineering (who are a consortium member) in Grove, Oxfordshire, to provide an update on the consortium's achievements around the simulator and proposals for trials and to share future plans over the upcoming 6 to 12 months.
People attending the event were given a unique opportunity to gain a deeper understanding of the role of VENTURER, while experiencing new and exciting technological advancements including first access to the simulator, designed and built by Williams Advanced Engineering.
Representatives from Atkins, UWE, Williams, AXA and Bristol Robotics Laboratory (BRL) gave presentations on their individual element's progress. Discussions focused on advancements made in the technology, insurance and legal and public acceptance work streams; as well as demonstrating new and exciting innovations in the field of self-driving capabilities including first-hand access to the VENTURER simulator, designed and built by Williams Advanced Engineering.
This was followed by a questions and answers session, where attendees were given an opportunity to engage with the panel of spokespeople.
The focus then moved next door, where Williams Advanced Engineering's workshop bays became a showroom for three vehicles that are assisting the VENTURER consortium in their research and testing – the BAE Wildcat, the Westfield Electric Pod and the newly built Williams simulator – which is based on a Range Rover Evoque.
Director of Corporate Resources Dave Perry attended the event. He said: "VENTURER is a really interesting and important project for South Gloucestershire to be involved in. We are proud to be one of the country's leading areas for innovation with many advanced engineering and high tech industries such as aerospace and robotics based in our area. Exploring this industry from its infancy means that we are well placed to reap the potential economic benefit should the sector develop as anticipated.
"VENTURER also gives us the opportunity to ask some difficult questions and really examine how connected autonomous vehicles may be adopted on our roads.
"This fantastic event gave an opportunity for each of the consortium partners to share their findings and aspirations, and provided an excellent platform to discuss ideas and concerns."
Commenting on the day's activities, Lee Woodcock, VENTURER project lead said: "This is an exciting time for our sector. Connected and Autonomous Vehicles are very much a reality and the UK is in a prime position to lead the market. With an already well-established reputation in R&D and automotive, we are at the heart of the global race. VENTURER is now on its way to creating a step-change in delivering autonomous mobility and as the project progresses, we look forward to emphasising opportunities for further development and growth."
VENTURER will now move into the next stage of its research and development programme which will look specifically at handover of control between vehicle and person, with on-going user behaviour testing taking place from summer 2016 through to spring 2017.
Trial one of the three-year project will take place at the University of the West of England.
VENTURER is a £5 million R&D programme aimed at investigating the barriers to the adoption of autonomous vehicles in the UK. The project, led by Atkins, is formed of 10 organisations spanning the public, private and academic sectors. VENTURER is an initiative part-funded by Innovate UK and members of the consortium.
VENTURER consortium members include Atkins (Project Lead), AXA, BAE Systems, Bristol City Council, Bristol Robotics Laboratory (BRL), Bristol University, First, Fusion Processing, South Gloucestershire Council, and Williams, with support from Burgess Salmon.
For more information, please visit www.venturer-cars.com