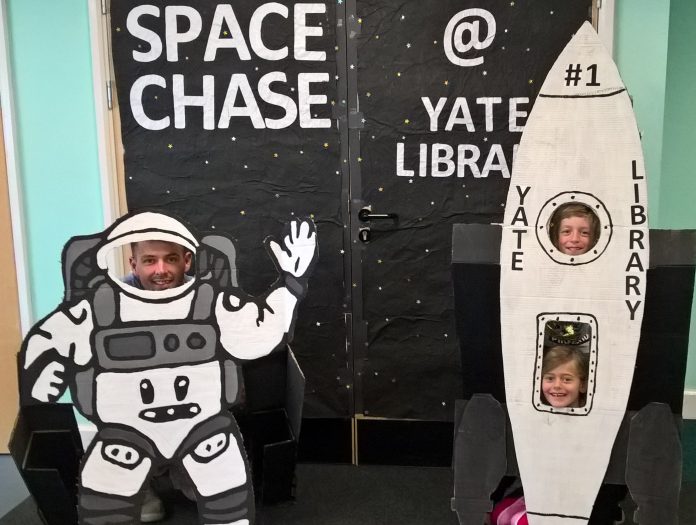 South Gloucestershire libraries are calling for children to sign up to read six books this summer as part of the Summer Reading Challenge 2019.
The Challenge is open to 4 to 11-year-olds and runs between 13 July and 14 September across all libraries in South Gloucestershire.
This year's theme is 'Space Chase', which is inspired by the 50th anniversary of the first moon landing which also takes place this summer.
Children can sign up at their local library where they will be presented with a mission folder to display stickers and record the books that they read.
These stickers will also provide clues to help children solve a space themed mystery as the challenge progresses.
Chair of South Gloucestershire Council, Cllr Brian Allinson said: "The Summer Reading Challenge always proves to be tremendously popular with children and families and we are proud to be supporting the 20th anniversary this year.
"This year's Challenge also coincides with the 50th anniversary of the first moon landing and we hope the space related theme will inspire all children to use their local library and to read lots of great books throughout the summer and beyond. I encourage children and families to go along to their local library and sign-up."
Matt Wyatt was joined by his children Zac (9) and Bethan (6) at the launch at Yate Library on Saturday (13 July).
Matt described the Summer Reading Challenge as "a great way for kids to explore reading and discover new books", Zac said: "I'm excited about the reading challenge as I can read a lot and I like reading", and Bethan is keen to be involved as she wants to "read more books".
There's a whole programme of free events and activities planned at libraries for families over the summer to celebrate the Summer Reading Challenge, including Fizz Pop Science workshops, Lego Mindstorm Mars Rover Challenge with Aerospace Bristol and Space Chase craft activities.
For further information on this year's Summer Reading Challenge, contact your local library, or go to www.southglos.gov.uk/childrenslibrary to find out how to take part.
Like us on Facebook www.facebook.com/sgloslibraries and follow us on Twitter @southgloslibs for the latest Space Chase mission updates.