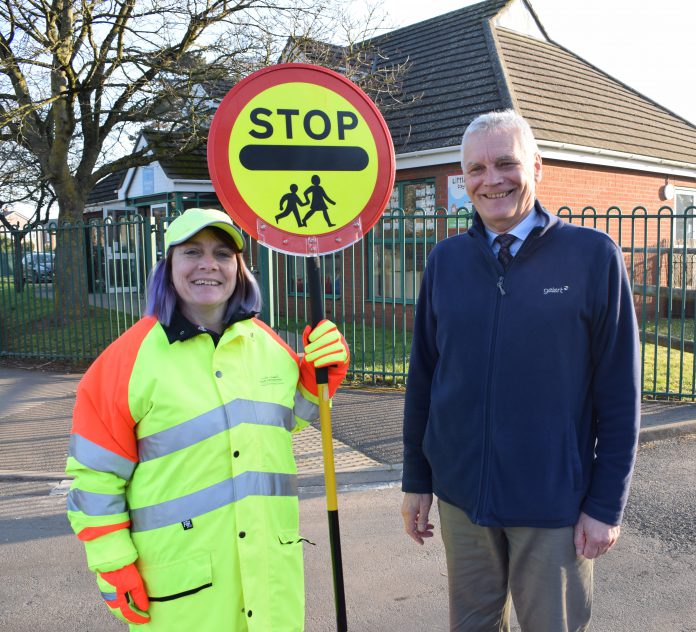 We are recruiting new school crossing patrol officers – better known as 'lollipop' men and women – for a range of schools throughout South Gloucestershire.
We want to find 12 new heroes who want to make a difference by ensuring primary school children get to and from school safely.
There are currently 41 school crossing patrol sites across South Gloucestershire and we have 12 vacancies in the areas listed below. These are paid posts, and patrol times vary at different schools but are generally for half an hour in the morning (approximately 8.30am to 9am) and half an hour in the afternoon (approximately 3pm to 3.30pm) during term time only. We offer flexibility, so if you can only work mornings or cannot work every week day we would still be interested in hearing from you.
In total, just under 3,200 pupils attend these schools and we would like to recruit as soon as possible. No formal qualifications or experience are required as we will train suitable applicants and a uniform will be provided. Experience of working with or being responsible for children is desirable and knowledge of the Highway Code as a driver, cyclist or pedestrian would be helpful.
We also look for our patrols to build and maintain a good working relationship with the children, parents, drivers and the schools.
Cabinet Member for Communities and Tourism Cllr Paul Hughes said: "Our school crossing patrol officers may not wear capes but they are definitely the heroes of their communities.
"These roles are so important, not only for the school they serve but for their local area as a whole. They really do help keep children safe which is why we think of our crossing patrol officers as heroes, and the reason we have protected funding for these valued positions through our budget.
"Crossing patrol staff often find it a hugely rewarding and sociable role and many stay in their post for years and years. I would urge anybody who might be interested in one of these posts to get in touch with us."
All school crossing patrols provide a really valuable service to the local community by ensuring that children and adults are able to cross the road safely on their route to and from school. Applications are welcome from people of all ages.
If you feel that you fit this description and would like to help local children travel to school safely and become a vital part of the local community please contact the road safety team for an informal discussion or application form. Appointment is subject to references, DBS checks and medical.
If you are interested in applying please contact us on 01454 863611.
Areas where we have vacancies for school crossing patrol:
Almondsbury Primary, Almondsbury
Elm Park Primary, Winterbourne
Hanham Abbotts Juniors, Hanham
Iron Acton Primary
Longwell Green Primary (x 2)
Manorbrook Primary, Thornbury
North Road Primary, Yate
St Barnabas, Oldland Common
St Michael's Primary, Winterbourne
Stanbridge Primary, Downend
Staple Hill Primary.