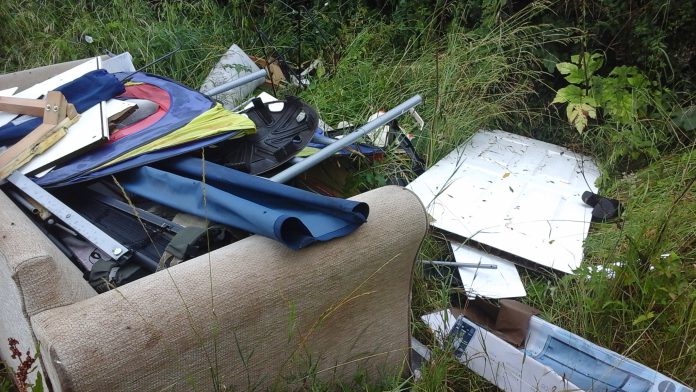 A man from Southmead in Bristol has been ordered to pay a total of £593 in fines and costs after South Gloucestershire Council prosecuted him for waste offences following the discovery of a fly-tip.
David Burnell, 54, of Ringwood Crecent in Southmead appeared at Bristol Magistrates Court on Monday 13 November. He pleaded guilty to the duty of care offences and was ordered to pay a fine of £138, along with £400 in costs and a £55 victim surcharge, making a total of £593.
The court heard that on 10 July 2023 South Gloucestershire Council received an anonymous report of a fly-tip on Foss Lane, Oldbury-on-Severn in South Gloucestershire. The location is a remote country lane and the fly-tip consisted of assorted household waste including carpets, a sofa, blinds and empty paint tins. Among the rubbish correspondence was also found addressed to David Burnell.
Burnell attended a voluntary interview at the council's Yate offices on Wednesday 2 August, where he was shown photographs of the dumped waste. He acknowledged a proportion of the waste, including carpets, blinds and the correspondence had originated from his address. He stated that he had recently had two bedrooms decorated and carpeted and the old carpets, used paint tins, and other items of rubbish had then been put in a pile in his front garden with his intention being to then call a local waste removal company to collect it, something he had done on previous occasions.
Burnell claimed that one day during the first week of July 2023 three men in a white van cold called at his home offering to take the waste away. He stated that he was in his back room and did not speak with these males directly, the door having been answered by his daughter. He said that a price of £50 cash was agreed, and the rubbish was removed.
Burnell did not receive a receipt for the transaction and could not provide any names, contact numbers nor make and registration number of the van. He accepted liability for not exercising his duty of care obligations to ensure that his waste was transferred to a registered and responsible waste carrier for correct disposal. The interview was concluded and Burnell was advised that he was being reported for summons for the offence.
Councillor Leigh Ingham, cabinet member responsible for environmental enforcement at South Gloucestershire Council, said: "I hope this latest prosecution acts as a deterrent to anyone who fails in their duty of care for waste disposal. Rather than issue fixed penalty notices as some local authorities do, South Gloucestershire Council always pursue fly-tip related prosecutions through the courts and our award-winning environmental enforcement team has a 100 per cent record of securing successful prosecutions for this type of offence.
"If you hire a third-party to dispose of your waste, always ask for a copy of the company's waste carrier registration certificate and ask where the waste is being taken, or you could be found liable and face a considerable fine."
Residents and businesses are advised to only give their rubbish to an Environment Agency registered waste carrier.
Contractors should ensure that they hold a Registered Waste Carriers Licence and they comply with the Waste Transfer Note requirements.
You can carry out these simple steps to make sure your waste is disposed of legally:
• Ask for a copy of the company's waste carrier registration certificate and ask where the waste is being taken. Legitimate firms will be happy to provide this information.
• Do not be tempted to use people offering cheap waste clearance on sites such as Facebook and Gumtree unless you have confirmed that they are registered with the Environment Agency
• Check whether the waste carrier is registered by calling the Environment Agency on 08708 506506 or by checking on their website https://environment.data.gov.uk/public-register/view/search-waste-carriers-brokers
• Ask for a registered trading address and contact telephone number for the trader and get a receipt.
Household waste can be taken to the council's Sort It recycling centres where it can be disposed of at no cost www.southglos.gov.uk/sortitcentres
Residents who see illegal fly tipping are encouraged to report it by contacting the council's StreetCare helpdesk on 01454 868000, emailing streetcare@southglos.gov.uk or visiting www.southglos.gov.uk/flytipping