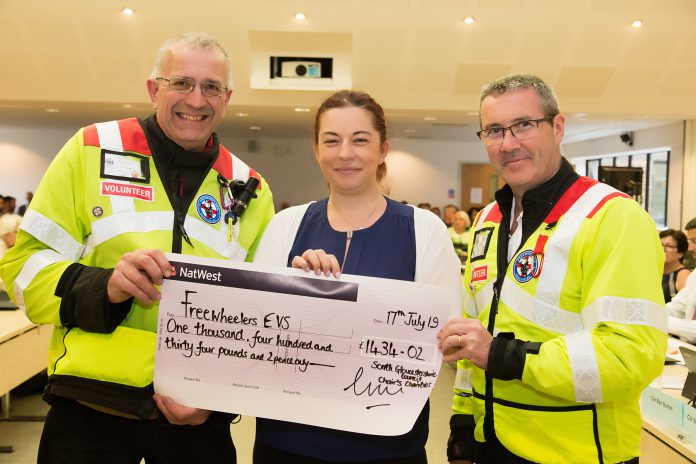 Charities which offer emergency air ambulance support to the most critical patients across our region and that provide a social space for people who are worried about their memory have been chosen as this year's Chair's charities.
Each year the new Chair of Council chooses a charity or charities to support for the year ahead and any donations received during this time are totalled up and presented to representatives from the charities at the end of the Chair's term of office.
This year's Chair of Council, Cllr Brian Allinson, has chosen Great Western Air Ambulance Charity (GWAAC) https://greatwesternairambulance.com/ and Patchway Memory Cafe www.facebook.com/Patchway-Memory-Cafe-1681811182118736/ to benefit.
Cllr Allinson said: "I picked Great Western Air Ambulance Charity because they constantly need support to continue to be able to provide critical emergency care which saves lives across South Gloucestershire, Bristol, Bath and North East Somerset, Gloucestershire, North Somerset and surrounding areas.
"Equally, Patchway Memory Café reaches out to people who are worried about their memory, or people with a diagnosis of dementia and their carers and family members. They have regular speakers and activities and are a great place to find out information on what services are available, and to meet people in a similar situation. I'm looking forward to working with both charities during my year in office and hope my support will help raise the profile of the invaluable services they provide to people."
Last night's full Council meeting saw the previous Chair, Cllr Rachael Hunt present representatives from her chosen charities – Next Link and Freewheelers EVS – with just over £1,400, which was raised through a variety of fundraising events for each of her charities.
In addition to the money raised, Cllr Hunt also had a collection at the council offices for emergency packs (toiletries, baby bottles etc) for Next Link's safe houses, and delivered several bags and boxes of items to them.
For more information about the Chair of the Council please visit www.southglos.gov.uk/chair