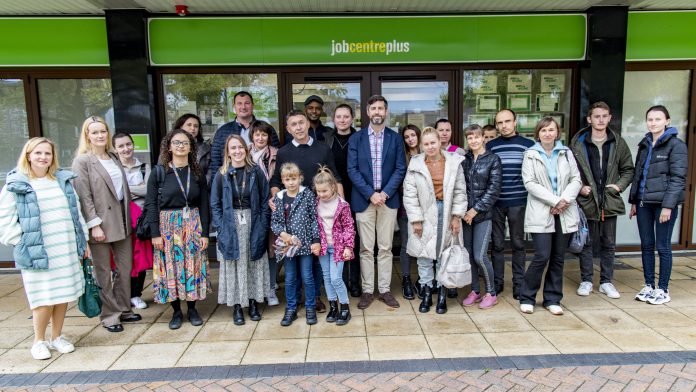 South Gloucestershire Council has announced Homes for Ukraine sponsors in the district will receive an additional £125 per month in thank you payments, and the council is supporting more Ukrainian guests into employment.
The £350 payment is going up to £475 from 15 December for five months, to support sponsors with rising costs and to recognise their important contribution in providing Ukrainian guests with a safe and welcoming home.
South Gloucestershire currently has 431 guests matched to 212 sponsors, with 393 having already arrived and the remaining guests due in the coming weeks and months.
While the council's Homes for Ukraine Team continues to support new guests and sponsors with settling and accessing important services, they are also working to assist those who have reached the end of their initial sponsorship period with securing alternative accommodation.
Since the launch of the programme this September, the council has supported 34 families to find properties in the private rental market and has been able to offer alternative accommodation to over 90 Ukrainian guests.
In October, the council launched employability workshops at Yate Job Centre Plus. The successful project has helped 17 out of the 19 Ukrainian guests who took part to secure full time employment. Sixteen more have since joined the programme and are being supported to find suitable roles.
This is having a positive impact on the local job market, particularly in areas where there are significant workforce shortages and is helping guests to settle and constructively contribute within communities. The council now plans to build on this success by expanding the initiative in the New Year with work underway to open similar programmes in Kingswood and Thornbury.
South Gloucestershire Council cabinet member for equality of opportunity, councillor Franklin Owusu-Antwi said: "We are extremely grateful for the tremendous contribution made by our Homes for Ukraine sponsors who have provided guests from Ukraine with safe and stable accommodation in South Gloucestershire. We are pleased to have agreed this additional funding which means we can increase the thank you payments for sponsors by £125 per month, for a five-month period.
"This increase recognises the cost-of-living pressures being put on household budgets at the moment and will help to ease any concerns current and prospective sponsors may have. Our employment support is also helping guests to find suitable jobs and is boosting business sectors where recruiting staff has been problematic.
"We thank our sponsors and stand in continued solidarity with Ukraine and our Ukrainian guests during this difficult period."
Information on the Ukraine crisis help and support, including the Homes for Ukraine, and the Ukraine Family scheme is available at www.southglos.gov.uk/ukraine