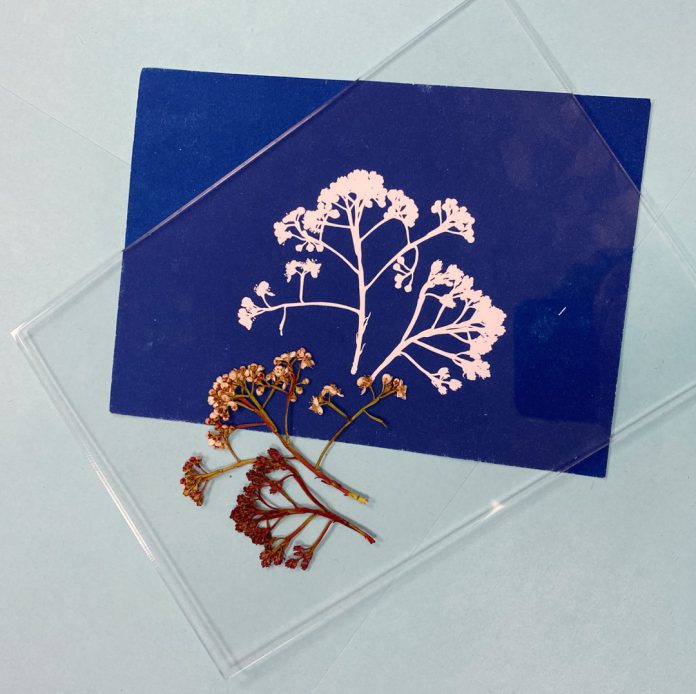 A community art exhibition has seen hundreds of South Gloucestershire residents celebrating the biodiversity found on their doorstep.
Pop along to Emersons Green Library and Lyde Green Community Centre from 16 to 31 August to see the art created by local people as part of the Linking the Greens 'press and print' project.
If you wander around Emersons Green and Lyde Green over the next few weeks you might also get to see the beautiful cyanotypes of local flora displayed in the windows of people's homes.
Artist Kerry Lemon was commissioned by the Council to develop a series of permanent artworks as part of the Linking the Greens project, which aims to improve connections between Emersons Green and Lyde Green, which sit either side of the A4174 Ring Road.
Kerry was inspired by the local plants and flowers found across the area and engaged the local community to help make the work. As part of her programme, Kerry distributed 250 press and print craft packs to local people to encourage them to collect and press local plants.
Brownie and scout groups, Downend School, and a host of local residents all got involved by exploring their communities while learning about the traditional artform of flower pressing. The project encouraged them to get creative by arranging and pressing their chosen blooms, before transforming them into cyanotypes – shadow photography prints, made using just the sun.
The pressed flowers will become part of a floral collection at Bristol Museum, leaving a permanent record of wildlife in the area at this time as a resource for use in research and publication.
The cyanotypes are being exhibited at Lyde Green Community Centre and Emersons Green Library and in windows across Emersons Green and Lyde Green from 16 to 31 August. A selection of the best examples will be chosen to feature in the final permanent designs that are incorporated into the Newlands bridge link landscape scheme.
Cabinet Member for Communities and Local Place Cllr Rachael Hunt said: I'm delighted to see so many people take part in, and enjoy, this fantastic project, which offered a real opportunity for local people to get involved in shaping their environment. We are really pleased that so many have risen to the challenge and that others will get to see their work and be inspired by it too.
"We hope that the project has not only engaged the local community in the public art programme but has also encouraged a better understanding and appreciation of nature in the area."
For further information about the Linking the Greens project visit https://beta.southglos.gov.uk/linking-the-greens/