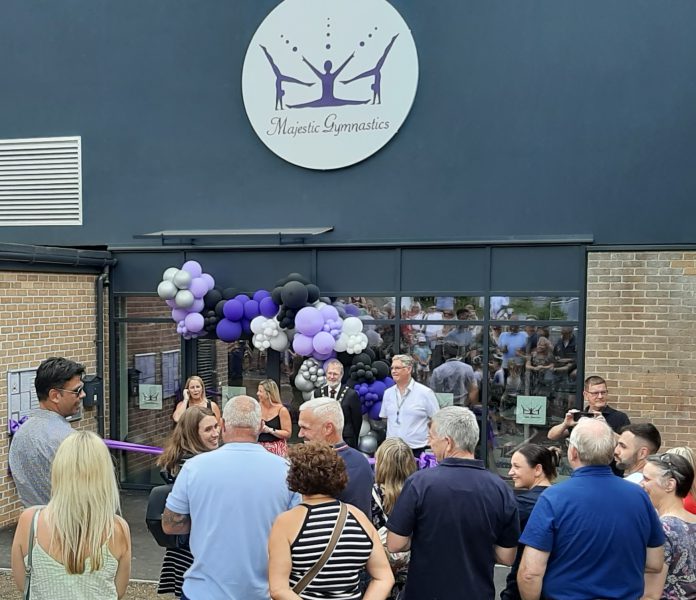 Majestic Gymnastics have a brand-new home in Warmley, in a purpose-built facility on the site of the former Grange School. The facilities were opened by the Chair of South Gloucestershire Council, Councillor Mike Drew on Saturday 24 June.
The event was attended by dozens of the club's gymnasts, who showcased their talents and the benefits of their new home, where they will practice and train and where they hope to attract new members to take up individual and team versions of the sport.
South Gloucestershire Council has worked with the club to help it find a new home after they were forced to leave their old premises in Longwell Green. Club Directors, Candice Littleton and Michelle George, approached the Council for help in securing the club's future and after extensive negotiations the Council agreed to redevelop the former Grange School gymnasium into a brand-new Community Sport and Gymnastics Centre as part of a wider Council led regeneration project in Warmley.
The project has taken three years to complete, and the council has supported the work by providing project management and £2.6 million in investment. The new facilities were designed by architects, Atkins and the building work was completed by K P Wilton Construction.
Councillor Drew said: "I am so pleased to be able to open these wonderful new facilities. It is already clear the benefit they are bringing to the gymnasts who are part of the club, and we all hope that more young people will now come along to take up the sport.
"The Council has worked closely with the club to ensure that this new home will secure their future in our community and that gymnasts from South Gloucestershire and the South West can continue to take part locally and potentially go on to represent the area in regional, national and international competition."
Candice and Michelle said: "We are thrilled to be able to welcome our current gymnasts to our new home and look forward to welcoming more local girls and boys to come and try our sport. We are grateful to the council and to the community for their support during what has been a difficult time as we looked for a new home, but we are now so proud and pleased that we have a new, permanent base here."
Atkins senior chartered building surveyor, Elena Dyer, said: "From the start of the project we were fully aware of the importance of this facility for the community and wider region, so it's really exciting to see it open and in use. We championed the reuse of an existing building in an effort to stop new construction materials being bought in to the cycle and have installed sustainable systems in order for the Grange Sports Hall to be a feature for generations to come."
For more information about Majestic Gymnastics, please visit their website at www.majesticgymnastics.co.uk