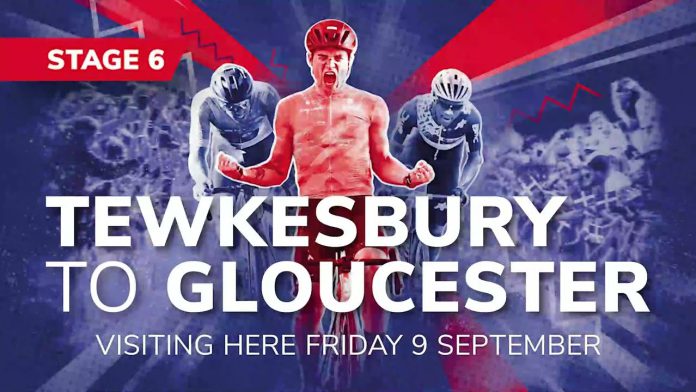 Please note this event has been cancelled. For more information see https://twitter.com/TourofBritain/status/1567965924522659843
South Gloucestershire is getting ready to welcome the arrival of the 2022 AJ Bell Tour of Britain cycling race when it visits the area on Friday 9 September.
Stage six of the eight-stage event covers 170.9 km (106.3 miles) and sets off from Tewkesbury in Gloucestershire at 11am. Race leaders will cross the border into South Gloucestershire on the A46 at Dunkirk (near Hawkesbury Upton) shortly after 1.30pm. The riders then drop down through Horton, into Chipping Sodbury and Yate, and out towards Iron Acton and Rangeworthy, before exiting the district from Charfield around 2.15pm and on to the finish in Gloucester. For more details visit https://beta.southglos.gov.uk/tour-of-britain
14 South Gloucestershire schools that will have the tour pass by or very near to them, have been informed and offered a range of Tour of Britain activities by South Gloucestershire Council, with resources and prizes to get their pupils involved and to inspire them to lead an active and healthy lifestyle. These activities include a cycle to school safely quiz, bling your bike, scooter or shoes competition, design a flag or poster competition and opportunities to sign up for council-run Bikeability cycle training.
Councillor Toby Savage, Leader of South Gloucestershire Council, said: "We are delighted that a significant section of the Tewkesbury to Gloucester stage of the UK's most prestigious cycling event takes place in South Gloucestershire this Friday.
"As well as the opportunity for local people to spectate a top sporting event on their doorstep and for free, we are using this occasion to highlight the importance of making the big switch to more sustainable and active transport.
"South Gloucestershire Council is incredibly proud of the investment we continue to make in installing safe cycling and walking routes to make sustainable travel modes the natural choice; helping to tackle the climate and nature emergencies and reach net zero emissions by 2030."
The council's Climate Emergency Manager Barry Wyatt rode the South Gloucestershire section of the tour himself during his summer vacation and said: "We might not be as fast or as fit as the Tour of Britain competitors, but anyone who makes the big switch from car to bike can improve their health and quality of life whilst making a difference to the environment."
You can watch a speeded-up version of Barry's tour here https://www.youtube.com/watch?v=2tQjQ7vEdLY
For more information about the whole race and further details of stage six, including the route through South Gloucestershire, view the AJ Bell Tour of Britain event guide www.tourofbritain.co.uk/digital-guide/
Residents have been informed that rolling road closures will be in place to ensure disruption is kept to a minimum along the stage six route on Friday. This means roads on and around the race route will be closed to traffic for a short period (usually around 30 minutes) to enable the race to pass through safely.
There will also be parking suspensions along the route at Horton Hill, Horton and Chipping Sodbury High Street, as well as 300 metres prior to the sprint section at Rangeworthy on both sides of the carriageway.
The Tour of Britain is escorted along the route by trained police officers and escort motorcyclists. If you are asked to stop by an officer, please listen carefully and follow their instructions.
The best viewing sites are Chipping Sodbury High Street and Rangeworthy village, although the sprint section at Rangeworthy will pass through very quickly. Find your safe spectator spot early and enjoy the build up to the peloton arriving. There will be an advance vehicle 15 minutes ahead of the race, keeping you up to date with what is happening.
Respect the riders – everyone is encouraged to support and cheer on the riders but please remember this is a major international race for them. Please don't block their route, run alongside them or impede their progress. Keep children back from the edge of the road and animals on a lead, away from the roadside. Residents are encouraged to wave flags and South Gloucestershire Council will be giving some out in certain locations, but please keep flags, objects and photography equipment out of the road.