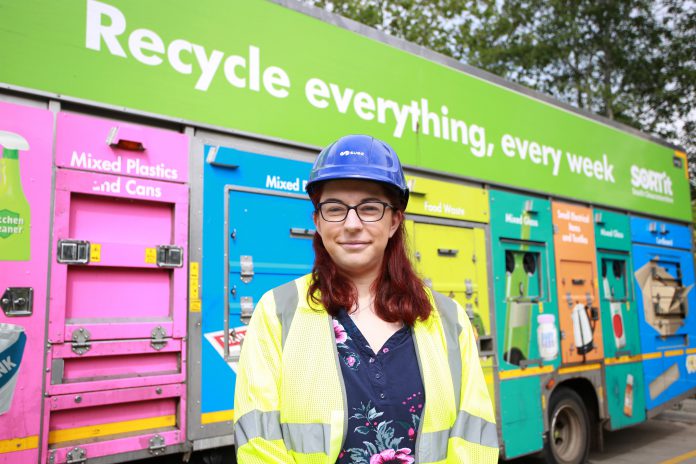 Three of our Sort It recycling centres will reopen on Saturday, 16 May after being temporarily closed due to the coronavirus outbreak.
Sort It recycling centres at Mangotsfield, Thornbury and Yate will open with some restrictions around the type of waste that can be disposed of, and essential social distancing measures in place to keep people safe.
There will also be a temporary change to opening times with sites operating from 6am to 6pm until further notice. The sites will be open for essential use and will only accept non-recyclable black bin waste and large items such as furniture and mattresses to begin with.
Any other waste, including garden waste, soil, DIY, recycling and plastics cannot be brought onto the sites and will not be accepted.
Limits on the types of waste are necessary so we can cordon off certain areas and implement social distancing measures. This will enable people to unload their vehicles at a safe distance from others in the current circumstances.
Each vehicle will have the use of two parking spaces to unload waste and two disposal bays to use; one for black bin waste and one for large items.
Cabinet Member for Communities, Cllr Rachael Hunt said: "It is fantastic news that we will be reopening three of our recycling centres at Mangotsfield, Thornbury and Yate on 16 May to allow people to dispose of some of the troublesome black-bin and bulky waste that may have built-up at home over the lockdown period.
"It is important to note that we will have to apply some restrictions around the type of waste that can be disposed of in order to implement appropriate social distancing measures and we urge people to only use the sites if absolutely necessary. We will be providing updates on this and other important information on our website which I encourage residents to check.
"After these sites have opened, we will be reviewing the measures regularly and additional types of waste may be added if it is possible to do so. I'd like to thank our residents for their patience and understanding over the past few weeks."
Please note:
• Site staff will not be able to help unload vehicles, so make sure you have someone from your household with you if you need help
• Little Stoke Sort It recycling centre will remain closed until further notice
• The re-use shop at Thornbury Sort It recycling centre will also be closed until further notice.
Black bin waste and large items are being prioritised at the Sort It recycling centres as they are most likely to build-up at home and are more likely to be fly-tipped.
The sites are likely to be very busy initially, so to avoid long queues and to prevent traffic building up in the areas around the sites, please only visit if you cannot manage your waste at home.
Please use the sites responsibly, recycle at home and only come to the Sort It recycling centres if you really need to. Tips on recycling and reusing your waste can be found on our Facebook page www.facebook.com/sglosstreetcare
The bulky waste items will be recycled at ETM in Ashton and the black bin waste disposed through energy from waste in Avonmouth.
People are reminded that it is your responsibility to ensure your waste is disposed of legally. If you use a private company to collect any waste, check they have a valid waste carriers' licence.
Legitimate waste carriers must have a licence and should provide transfer notes so the waste can be traced back to a business or individual. Fly-tipping any waste is illegal. We have a zero tolerance of fly-tipping and fully investigate every incidence. If your waste is found to be fly-tipped, you will be held responsible as well as the person carrying out the illegal activity.
Details on the reopening of our Sort It recycling centres can be found at www.southglos.gov.uk/sortit and www.southglos.gov.uk/servicedisruption
There are no changes to collection days for garden waste, black bins or recycling, so please put your containers out by 7am on your normal collection day. You can check your collection at www.southglos.gov.uk/collectionday