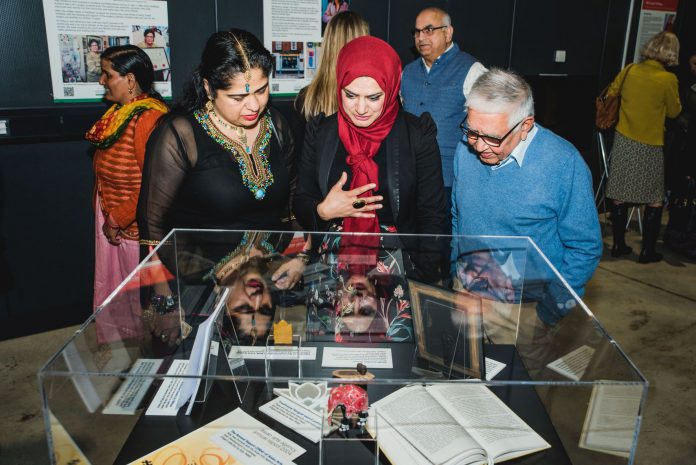 An exhibition and films which capture and celebrate the stories of people from India who now call South Gloucestershire home were launched at a special event at Aerospace Bristol on 6 April.
'This is your Heritage: Stories from the Indian Community in South Gloucestershire' features an introduction video that provides a fascinating glimpse into the lives of South Gloucestershire residents with Indian heritage.
The introduction video features some of the people who have kept their culture and traditions while embracing life in South Gloucestershire www.youtube.com/watch?v=aNEnIGObRWY
The exhibition forms part of a pilot project which encourages people from the Indian community to share their experiences of migration and work with local museums to gather and document their oral histories.
South Gloucestershire Council and partners South Gloucestershire Race Equality Network, Avon Indian Community Association, South Gloucestershire Museums Group, and Yate Heritage Centre (Yate Town Council), secured Arts Council National Lottery Project Grant funding for the project which runs over the next 12 months, at museums and libraries across the district.
Chair of South Gloucestershire Council, Cllr Ruth Davis said: "This wonderful project recognises the important and valuable contribution that the Indian community make to life in South Gloucestershire. Sharing the touching stories of the people who made the journey from India to come and make new lives here is important and it contributes to the wider social history of our area. It is right that we celebrate the diversity within our communities, and it's fantastic that this enables people from our Indian community to step forward and share their stories."
South Gloucestershire Council's Heritage Champion, Cllr Steve Reade said: "The vibrant Indian community here in South Gloucestershire is an important part of what makes our district such a wonderful place to live, and why we are so proud of our shared British identity. This project captures and presents the fascinating journeys that have brought individuals and families to settle here, and this social history plays a fundamental part of making South Gloucestershire the place it is today. I have really enjoyed the exhibition and I encourage others to visit their local library or museum to see it for themselves."
The introduction video can be viewed at the exhibition venues and three films featuring the stories of the contributors are available on the webpage www.southglos.gov.uk/indian-heritage-stories. Additional films and materials will be added during the project which ends in May 2023.
Touring dates for the exhibition:
• Aerospace Bristol: 6 April to 2 June 2022 (Paid entry to the museum)
• Kingswood Heritage Museum: to be confirmed
• Yate Heritage Centre: 8 July to 30 August 2022
• Thornbury & District Museum: 7th February 2023 to 22 April 2023
• Frenchay Village Museum: to be confirmed
• Bradley Stoke Library: 5 September 2022 to 17 September 2022
• Thornbury Library: 26 September 2022 to 8 October 2022
• Yate Library: 17 October 2022 to 29 October 2022
• Patchway Library: 7 November 2022 to 19 November 2022
• Staple Hill Library: 28 November 2022 to 10 December 2022
• Hanham Library: 19 December 2022 to 31 December 2022
• Kingswood Library: 9 January 2023 to 21 January 2023
• Cadbury Heath Library: 30 January 2023 to 11 February 2023
• Emersons Green Library: 20 February 2023 to 4 March 2023
• Winterbourne Library: 13 March 2023 to 25 March 2023
• Downend Library: 3 April 2023 to 15 April 2023
• Filton Library: 24 April 2023 to 6 May 2023