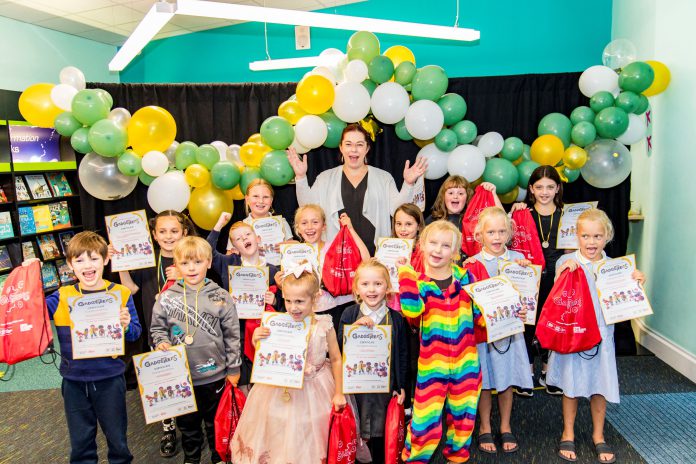 Six thousand children have taken part in this year's Summer Reading Challenge at South Gloucestershire Libraries, reading almost 100,000 books over the school summer holidays.
Libraries and The Reading Agency partnered with the Science Museum Group for a science and innovation themed challenge named 'Gadgeteers', to spark children's curiosity about the world around them and celebrate the role of the imagination in both reading and the sciences.
The Summer Reading Challenge helps to build children's reading skills and confidence during the long, summer break from school. Primary school children from across South Gloucestershire took part by reading books throughout the holidays, and collected stickers to help them complete it.
There was also a mini challenge which was specially designed for pre-school children to help prepare them for their first day at school.
This year also saw the launch of the council's project to give every child a library card, with all children in Reception and Year 1 receiving a card and being encouraged to participate in the Summer Reading Challenge.
To celebrate the success of everyone who has taken part this year, cabinet member for libraries, Councillor Rachael Hunt, visited Yate Library to meet a group of local children for a special event.
Councillor Hunt said: "Reading is an essential skill for children's education as well as supporting their wellbeing and development, so it is fantastic to see even more children have taken part in this year's Summer Reading Challenge than before the pandemic. We also believe that our initiative to provide all primary age children with a library card will further help to improve levels of literacy and encourage a life-long, love of reading.
"I want to congratulate everyone who took part in this year's Challenge and it's been wonderful to have the opportunity to meet some of the children and families this evening. It's clear how much they have gained from taking part and how much they have enjoyed it. Libraries are a fantastic free resource for children, and I encourage all families to use their local libraries and see the difference it can make to a child's learning, development and wellbeing."
Mary-Anne Willmott has an eight-year-old child who participated in this year's Challenge. She said: "The Summer Reading Challenge is always a favourite in our house. It's great to keep reading over the summer break."
Summer Reading Challenge volunteers have been on hand throughout the summer to encourage and support children taking part. To recognise their contribution, volunteers were awarded with certificates.
One of the volunteers who supported this year's Challenge and attended the celebration event said: "Volunteering for the summer reading challenge was a fantastic opportunity, I really enjoyed working with the staff and families, and seeing how enthusiastic the children were about reading was amazing."
To keep children busy and feed their imaginations, libraries also provided free activities including science workshops, 'Gadgeteer' themed crafts and Lego clubs throughout the summer.
South Gloucestershire Libraries also supported the Holiday Activity and Food Programme, which helps keep children fed and active through the summer break by working with South Gloucestershire Playscheme, Juice Community Project, Unique Voice and Fit for Sport to bring the Summer Reading Challenge to children taking part across the district.
Find out more at www.southglos.gov.uk/summerreadingchallenge or like us on Facebook www.facebook.com/sgloslibraries for the latest updates.