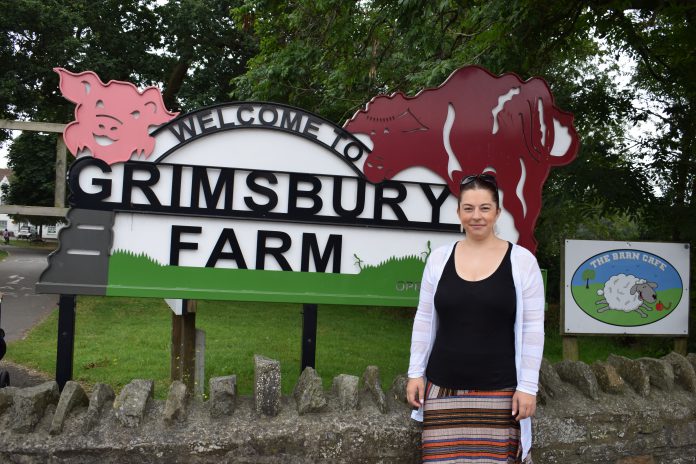 We are inviting people to visit Grimsbury Farm in Kingswood and enjoy a great day out this summer.
South Gloucestershire's Cabinet Member for Communities, Cllr Rachael Hunt visited the Farm recently to issue the invitation.
There are a variety of animals to see and visitors can learn about life on a working farm with Dexter cows, Pygmy goats, Gloucester Old Spot pigs, Southdown sheep, ducks and geese all residing there. There is also an aviary and a petting area where visitors can hold the smaller animals including guinea pigs and rabbits.
Grimsbury Farm is free to visit and is full of fun things to do for the whole family, with a children's playground, café and picnic area for people to enjoy.
The recently refurbished café is run by Brandon Trust and is the perfect place to seek refreshment. It is open seven days a week and has a new menu, with additional customer seating now available.
South Gloucestershire Council's Cabinet Member for Communities Cllr Rachael Hunt said: "If you are looking for a great day out for the whole family this summer then a visit to Grimsbury Farm is a must. The farm provides a relaxing location right on the edge of Kingswood where people can connect with nature and sample what life is like on a working farm.
"It's perfect for a day out, or just to visit for an hour or two if you're in the area. I'd like to encourage everyone to come and see what's on offer here, you can be sure of a warm welcome."
The farmhouse is believed to date back to the early 17th century and Stonehill Barn was originally built around 1800 and is made from pennant stone rubble with a pantile roof. During building work in 2009 a dovecote was revealed at the back of the farmhouse.
For more information on the activities on offer at Grimsbury Farm, visit: www.southglos.gov.uk/grimsburyfarm