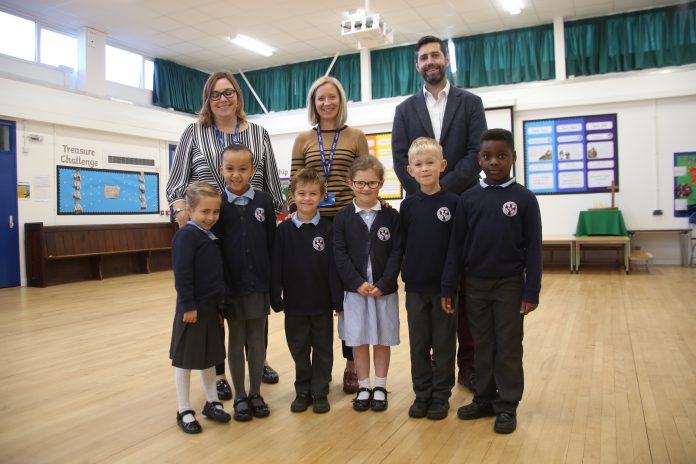 More than £4 million has been invested in a range of school maintenance projects in South Gloucestershire schools this year, as part of an ongoing programme of maintenance to the school estate.
Among the schools where major maintenance work most recently took place were:
Christchurch Infants School in Downend – £700,000 was spent to upgrade the heating and water systems as well as to undertake extensive re-wiring
Elm Park Primary School in Winterbourne – £170,000 was spent on the first phase of re-roofing the school
Hanham Abbotts Junior School – £220,000 was spent on replacing the heating system
Crossways Infants School – £250,000 has been spent on re-roofing
Alexander Hosea School – £100,000 has been sent on replacement hot and cold water services and boiler
Tortworth Primary School – £50,000 has been spent on re-roofing
Additionally, at Shield Road Primary School in Filton, £100,000 is due to be spent on installing a new play area.
Other smaller-scale maintenance projects have also been completed, including:
Little Stoke Primary – All lighting replaced with LED over the summer
Olveston Primary – Key Stage 1 area rewired
St Johns Mead – Window replacement at the front of the building
Rangeworthy Primary – Replacement of night storage heaters and point of use water heaters
Bromley Heath Juniors and Shield Road Primary School – Electrical mains upgrade
Wellesley Primary, Samuel White Infants, Barrs Court Primary, Bromley Heath Infants and Juniors – Heating Controls replacement.
Head teacher at Christchurch Infants School, Anna Martin, said: "We are really pleased with the improvements that have been made over the summer. These improvements might not be immediately visible, but they mean our buildings are warm, safe and more efficient, which means the as a school we can concentrate on the most important reason we are here, which is to help our pupils achieve to their fullest potential."
Head teacher at Crossways Infants School, Mark Toogood, said: "Having sound buildings in which to teach and work with our pupils is just as important as making sure we have what we need inside those buildings. Thanks to this new roof I and my staff can concentrate on our pupils' learning needs and helping them to grow and achieve."
Leader of South Gloucestershire Council and Cabinet Member for Schools, Skills and Employment, Councillor Toby Savage said: "We want our pupils have the best school facilities possible and this significant investment will help us to deliver that. Having quality school facilities means that teachers and pupils can concentrate on achieving the best possible outcomes."