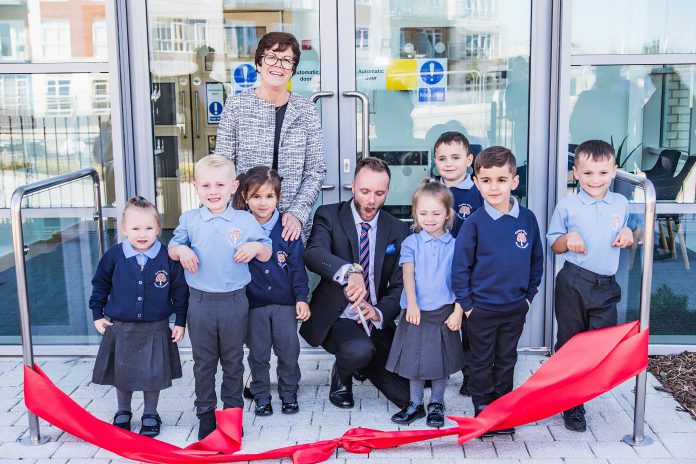 South Gloucestershire Council's Cabinet Member for Schools, Skills and Employment Cllr Erica Williams joined head teacher of the new Charlton Wood Primary Academy Neil Lankester and pupils as they gathered at an opening ceremony for the new school at the start of September.
Charlton Wood Primary Academy has been built on the former airfield in Charlton Hayes, Patchway at a total cost of £6.25m and is being run by the Endeavour Academy Trust with head teacher Neil Lankester at the helm. The new school has been funded from Section 106 contributions that the council secured from housing developers who are building new homes on the former airfield.
Teachers, parents and children joined head teacher Neil Lankester and Cllr Williams for a ribbon cutting ceremony to officially mark the opening of the new school.
South Gloucestershire Council's Cabinet Member for Schools, Skills and Employment, Cllr Erica Williams, said: "It is fantastic to see this state-of-the-art new school open to its first intake of students, in the heart of this new and growing community. Improving educational standards is our number one priority in South Gloucestershire and we want to make sure that our pupils have the best school facilities available that we are able to provide.
"We also want to ensure that the money we spend offers the greatest benefits for our residents, which is why the council has adopted a social value policy that sets out how we will include social value as part of the way we award contracts and buy services. We specifically awarded Beard the contract to build this school as a result of the social value aspect of their tender, where they committed to using contractors from the local area, offering apprenticeships and working with local school children, sourcing materials locally, and raising money for local causes."
South Gloucestershire Council's Cabinet has approved a record £78 million investment into schools over the next four years, funding the creation of new schools as well as capital improvements to a number of existing school buildings.
Head teacher Neil Lankester said: "The children have made a really great start to the school year and it has been lovely to finally see them engaging in learning on our fantastic site. Our founding families have been very supportive and we look forward to the year ahead!"
Charlton Wood Primary Academy will initially provide places for 90 students in Reception and Year One. Each year, 60 additional places will be created at the school until pupil intake reaches a maximum capacity of 420 in 2025.
As part of their contract with South Gloucestershire Council, Bristol-based construction firm Beard signed up to a social value pledge that included community benefits such as 80 per cent of subcontractors sourced from South Gloucestershire or Bristol, materials procured from suppliers within Priority Neighbourhoods, any surplus materials donated to the local community, charitable fund raising and donations, student work placements and school visits during the construction of the new Charlton Wood Primary Academy.
Drawn up by the council and Beard, the pledge set out key initiatives required by the construction firm and its subcontractors to support the local community during the school's construction.
For more information about Charlton Wood Primary Academy visit https://www.charltonwoodprimaryacademy.uk/