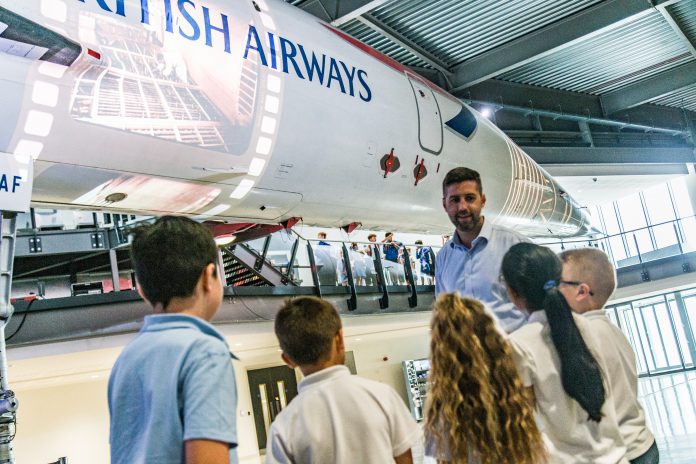 South Gloucestershire Council's Cabinet has approved financial assistance for the Aerospace Bristol museum that will secure free school visits for South Gloucestershire schools up until 2021.
At February's full Council meeting, councillors approved the arrangement of a 10 year loan extension for Aerospace Bristol. The interest received from this arrangement will provide the funding for South Gloucestershire schools to continue to visit the museum during 2019/20 and 2020/21 (£40k per annum), extending the 2018/19 programme.
Since the Council originally secured funding for the visits through the 2018/19 budget, more than 1,600 pupils from schools across the area have enjoyed educational trips to Aerospace Bristol to help support their science, technology, engineering and maths (STEM) learning. Each visit includes a practical STEM workshop aimed at inspiring young people about engineering.
In recognition of the Council's support, the museum has additionally committed to:
• Learning resources – the museum furthers its partnership with funders and other organisations, with particular emphasis on deprived areas within South Gloucestershire
• Usage of museum facilities – the museum is committed to both maintaining and increasing opportunities to host major STEM enrichment and celebratory events in support of South Gloucestershire schools
• Outreach and community engagement – the museum will further its work within South Gloucestershire with young people, dementia sufferers, the socially isolated, families of forces and prisoners, young people with or at risk of mental health problems, and those traditionally not engaged with the cultural heritage
• Provide a discount for South Gloucestershire foster carer families and placements.
Leader of South Gloucestershire Council with Cabinet responsibility for schools Cllr Toby Savage said: "We are delighted to be able to extend our assistance to Aerospace Bristol through this arrangement, which helps secure visits for our local schools up until 2021.
"These visits have proved to be really inspiring to our young people and also support the Council's number one priority to raise education standards. The pupils are not only getting a different and unique educational experience through these trips that is opening their eyes to the world of STEM, they are also able to enjoy an in depth account of South Gloucestershire's marvellous aerospace legacy."
Lloyd Burnell, Executive Director, Aerospace Bristol said: "Aerospace Bristol aims to inspire young people through an exhibition and learning programme that offer a unique insight into the rich aerospace heritage of our region. A school visit to Aerospace Bristol is a chance for today's children to discover remarkable stories of ordinary people achieving truly extraordinary things over the course of more than a century, from the pioneers of the earliest powered flights through to the present day work of today's aerospace engineers. We'd like to thank South Gloucestershire Council for their support and we look forward to providing many more memorable and inspiring school visits in the years ahead."
Aerospace Bristol features fully equipped learning spaces with specialist facilities for school and youth groups. The museum has worked closely with partners in the aerospace industry to develop an inspiring and practical learning programme, which not only allows visitors to explore our amazing local history in the industry, but also develop STEM skills and discover the possibilities of a career in engineering.
The museum is home to the last Concorde to fly and children get to see Concorde up close, as well as taking part in educational workshops and enjoying a number of the museum's other exhibits, including aeroplanes, helicopters, missiles, satellites and more.
South Gloucestershire Council has been involved with the facility since its inception when Concorde first arrived home to Filton, and in 2015 approved funding of £1.8m to support the development of the museum.
The full Council meeting took place on Wednesday 13 February.