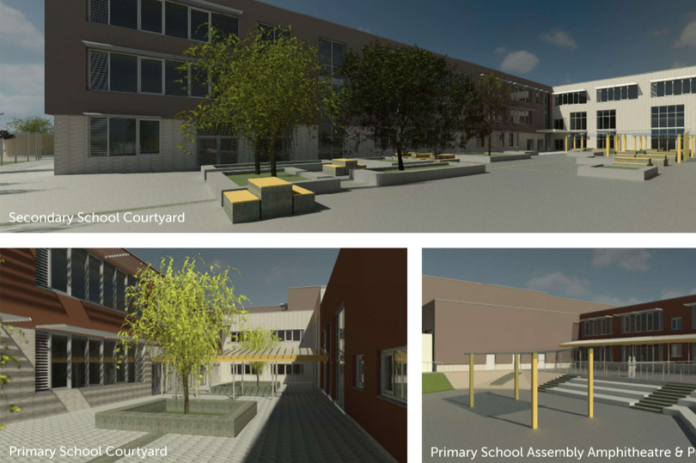 Two, brand new, multimillion-pound low carbon primary and secondary school buildings have been approved by South Gloucestershire Council, which will provide new and additional school places for local children in Lyde Green, for entry in September 2022.
The new primary phase will provide additional school places for children aged 4-11 and is being supported by £8.5m investment made through this year's Council budget.
The first Lyde Green Primary School, sponsored by the Castle Schools Education Trust (CSET), opened in 2015 on the Willowherb Road site and provides places for children aged 4-11. We are working with CSET and the Regional Schools Commissioner to commission the new primary phase and, following a well-received public consultation on the plans, detailed designs are being developed ready for construction to start in summer 2021.
The new building is being designed to the low-carbon Passivhaus standards, which will substantially reduce energy consumption, not only reducing the school's running costs, but will also support the objectives of the Council's Climate Emergency declaration made in 2019.
The new secondary school will sit side by side with the new primary building and will provide a total of 900 places for children aged 11-16. Following the recent announcement of the successful bid for central government funding, the new secondary school is sponsored by South Gloucestershire and Stroud Academy Trust, as part as part of the Department for Education's (DfE) Free Schools programme. The Council is working with the Trust and the DfE to plan for the operational opening of the school in September 2022.
Enabling children and young people to achieve their best possible outcomes is South Gloucestershire Council's highest priority and this is backed by significant capital investment in the school estate, so that children and young people benefit from access to high quality learning environments across the local area.
Cabinet Member for Education, Skills Learning and Employment, Councillor Erica Williams, said: "I am delighted that, with planning approval now granted, construction of the new school can begin this summer and that next summer, the first pupils will be able to start benefitting from these state-of-the-art new buildings.
"Improving school standards is the Council's number one priority and the delivery of these two new schools will certainly help achieve this for children in and around Lyde Green. We know that pupils and teachers thrive in good quality school buildings and not only will this new school provide a wonderful learning environment, but students will spend their education time in a place that will illustrate how we can improve our environment by the way we do things.
"I hope it will provide an inspiration to them, as it does to all of us to take positive steps through the decisions and investments we make to deliver on our Climate Emergency commitments."
Also welcoming the approval of planning permission, Kingswood MP Chris Skidmore said: "It is fantastic that we are one step closer towards the delivery of two brand new schools in Lyde Green following years of campaigning with planning permission finally granted. As a former Government minister who signed into law the UK's legislation to end its contribution to global warming, I want to thank the Council for putting forward climate-friendly plans, as well as the community for their overwhelming support in the recent public consultation. All that remains is to get building and I look forward to seeing doors open soon."