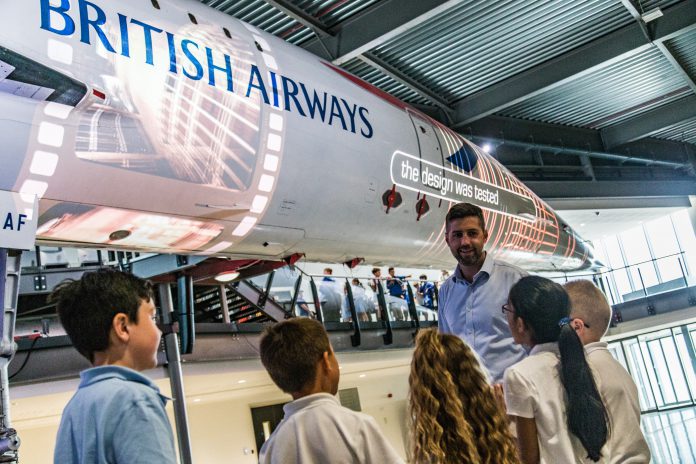 Thanks to funding from South Gloucestershire Council, pupils from schools across the area have been enjoying educational visits at the Aerospace museum to help support their science, technology, engineering and maths (STEM) learning.
Leader of South Gloucestershire Council with Cabinet responsibility for schools, Councillor Toby Savage, joined pupils from Beacon Rise Primary School in Kingswood at their recent visit to the centre, which has now been open for a year.
The children got to see Concorde up close, as well as taking part in educational workshops and enjoying a number of the museum's other exhibits, including aeroplanes, helicopters, missiles, satellites and more.
We are funding school visits to the Aerospace museum in Filton to help support STEM in South Gloucestershire. Each visit will include a practical STEM workshop aimed at inspiring young people about engineering. Funding was secured in the Budget in February to offer schools the opportunity to visit the new Aerospace museum in Filton this year in order to support STEM learning across Key Stage 2 and 3.
Councillor Savage said: "These trips give our young people the opportunity to develop STEM skills as well as learn about the local and national significance of design, engineering and technology.
"As the Aerospace museum celebrates its first full year of opening, it was great to meet the pupils from Beacon Rise primary School who were visiting and see how inspired they were by all of the exhibits on display."
Aerospace Bristol provides pupils with a unique insight into aviation history as well as being home to the last ever Concorde to be built.
The museum features fully equipped learning spaces with specialist facilities for school and youth groups. The museum has worked closely with partners in the aerospace industry to develop an inspiring and practical learning programme, which not only allows visitors to explore our amazing local history in the industry, but also develop STEM skills and discover the possibilities of a career in engineering.