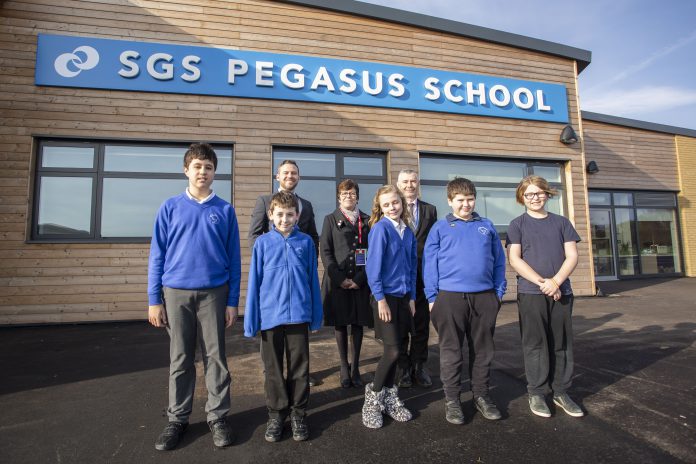 Cabinet Member for Schools, Cllr Erica Williams, toured the new school building at SGS Pegasus earlier this month, to see how its purpose-built learning environment is benefiting students.
The £11 million pound new school in Patchway is designed, in the words of the school, to create 'a calm, progressive learning environment' for children with a primary diagnosis of autism. Ultimately SGS Pegasus will be an all-through school for students aged 4-18 and is currently teaching 56 pupils in Years 2-8.
Staff and students moved into the new building in November last year and, having settled in, they welcomed Cllrs Savage and Williams on a tour of their classrooms, which have been sympathetically designed to support young people with autism to learn and thrive.
The thoughtful approach to the new school is designed to reduce distractions. While the building is light and airy, with plenty of sunlight, there are less bright colours on the walls; and while students and teachers alike are proud of the work they're doing, a minimum is put on display, according to a specific colour scheme, to reduce diversion from lessons.
The new capacity being provided at SGS Pegasus is part of the additional 302 places forecast to be commissioned for pupils with SEND across special schools in South Gloucestershire between 2015 and 2022.
On visiting the school, Councillor Williams said: "It was an absolute pleasure to see staff and students working in this purpose-built new school, which is tailored to the needs of young people with autism. As a council our number one priority is to raise educational standards for all and this free school is already making a massive positive difference to these pupils and is still growing.
"It was fascinating to see how the design of this special school can play such an important part in students learning. It is clear the young people were responding positively to their surroundings, that they are able to focus on their learning and that with this kind of support in South Gloucestershire, that their futures look bright."
Dominic Broad, head teacher at SGS Pegasus, said: "This is a very exciting opportunity for us to create a truly balanced and individualised curriculum for children. Our equal focus on developing children academically, socially, emotionally and physically allows us to work towards our students achieving to the best of their ability in a high stakes, low threat environment."
SGS Pegasus was set up in 2017, was formerly based in part of Patchway Community School, also located on Hempton Lane.
For more information visit https://academytrust.sgscol.ac.uk/sgs-pegasus-school