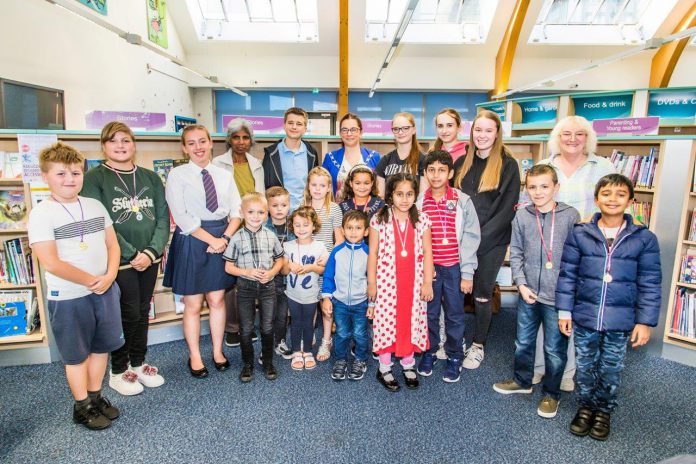 More than 5,000 children from across South Gloucestershire have participated in this year's Summer Reading Challenge.
The annual event is delivered by South Gloucestershire Council Libraries service with the theme for this year being 'Mischief Makers', inspired by the much-loved children's title 'Beano' which celebrates its 80th anniversary this year.
To celebrate the successful completion of the 2018 challenge, local children gathered at Patchway Library (Wednesday 12 September) to receive medals and certificates for achieving the target of reading six books through the summer months.
Celebrating the success of all the children taking part, Cllr Rachael Hunt, Chair of South Gloucestershire Council, presented the medals and certificates to the children.
Cllr Hunt said: "The Summer Reading Challenge in libraries is a great idea. Children's reading can 'dip' during the long summer holidays but taking part in the Challenge keeps children reading and developing their skills and confidence, so that they return to school ready to learn. I've really enjoyed meeting some of the children and families who have taken part; it is clear how much they have gained and how much fun they have had. My congratulations go to all the children who have taken part this year."
Young readers helped Beano characters including Dennis and Gnasher, to solve puzzles, follow clues and discover treasure, having lots of fun and adventures along the way.
Josh age nine, collected his medal at the ceremony, he said: "I think the Reading Challenge is great fun and helps me to read more, even on holiday".
Isla age eight added: "It's good because I have so much fun".
Catherine Curley is a parent of one of the children of who took part in the Summer Reading Challenge, she said: "My children have loved taking part in the Reading Challenge – it has encouraged my daughter to read more at school, all the staff at the library are always happy and friendly".
Summer Reading Challenge volunteers have been on hand throughout the summer to help children taking part by listening to them talk about their books and helping with activities. To recognise their contribution, volunteers were also awarded with certificates at the event.
Stephanie Palmer spent time volunteering with the Summer Reading Challenge this year and enjoyed the experience, she said: "I've loved working with the children this summer, the activities are great and were clearly engaging which I think encouraged them to keep reading. The staff were lovely and supportive, they were always on hand to answer questions. The job is always rewarding and the parents are always incredibly grateful."
A range of programmes, events and activities have been held for families over the summer as part of the Summer Reading Challenge, including Science workshops, craft activities and Fun with Phonics workshops with Explore Learning.
Visit www.southglos.gov.uk/childrenslibrary to find out more about this year's Summer Reading Challenge and library services for children, young people and families.
Children can find new books to read, win great book prizes and share recommendations with other readers on our safe, child-friendly and moderated, Summer Reading Challenge website: www.summerreadingchallenge.org.uk