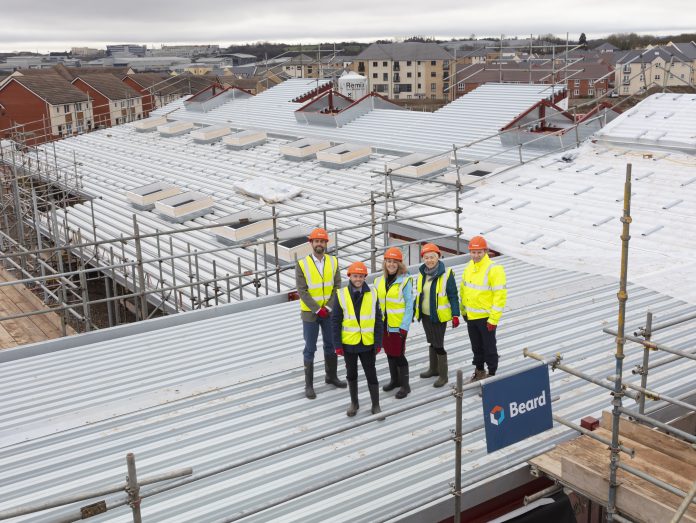 Leader of South Gloucestershire Council Cllr Toby Savage joined representatives for the new Charlton Wood Primary Academy and construction company Beard as they gathered for a topping out ceremony for the new school at the start of February.
The Charlton Wood Primary Academy is being built on the former airfield in Charlton Hayes, Patchway and will be run by the Endeavour Academy Trust with Head Teacher Neil Lankester at the helm. The new school will be funded from Section 106 developer contributions at a total cost of £6.25m.
The topping out ceremony was held as the final piece of the structure was laid in place, and was attended by Cllr Savage (Leader of South Gloucestershire Council with Cabinet responsibility for schools), Neil Lankester (Head Teacher – Charlton Wood Primary Academy), Bridget Shepherd (Business Manager – Charlton Wood Primary Academy), Barbara Daykin (CEO of the Endeavour Academy Trust), Richard Priest (Project Manager – Beard Construction) and council officers.
As part of their contract with South Gloucestershire Council, Bristol-based construction firm Beard has signed up to a social value pledge that will bring community benefits such as 80 per cent of subcontractors sourced from South Gloucestershire or Bristol, materials procured from suppliers within Priority Neighbourhoods, any surplus materials donated to the local community, charitable fund raising and donations, student work placements and school visits during the construction of the new Charlton Wood Primary Academy.
Drawn up by the Council and Beard, the pledge sets out key initiatives required by the construction firm and its subcontractors to support the local community during the project.
Cllr Savage said: "It's fantastic to see these state-of-the-art facilities for students take shape, which will complement the Council's number one priority to raise education standards.
"We want to ensure that the money we spend offers the greatest benefits for our residents and to help us achieve this we have adopted a social value policy, which sets out how we will include social value as part of the way we award contracts and buy services.
"We specifically awarded Beard this construction contract as a result of the social value aspect of their tender, which is providing a range of benefits for the local community in Charlton Hayes. The developer has committed to using contractors from the local area, offering apprenticeships and working with local school children, sourcing materials locally, and they will also be raising money for local causes."
Beard's Regional director Mike Hedges said: "Construction has been progressing well and it's exciting to see the new academy really starting to take shape as the roof goes on.
"As a family-owned contracting business we share South Gloucestershire Council's commitment to adding value to the communities in which we work and giving something back. On this scheme we're running a number of initiatives aimed at helping local people and community groups. These range from work experience, construction skills training and apprenticing opportunities, to raising money for charities, donating surplus building materials for community projects and working responsibly to minimise our carbon footprint."
Head Teacher Neil Lankester said: "The children who join us in September will benefit from our state of the art facilities in a brand new building. We are currently recruiting our first teachers and are really busy planning the curriculum, which will be rooted in academic excellence, so that the children make excellent progress from day one."
Set to open in September 2019, Charlton Wood Primary Academy will initially provide places for 90 students in Reception and Year One. Each year, 60 additional places will be created at the school until pupil intake reaches a maximum capacity of 420 in 2025.
The new school has been designed by South Gloucestershire Council and BBA Architects.