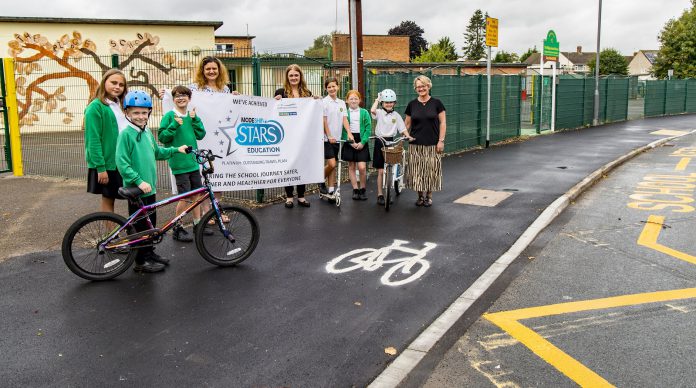 Pupils across South Gloucestershire are officially shining stars after earning top awards as part of a national active travel scheme for schools, with the local authority now placed third in the Modeshift STARS (Sustainable Travel Accreditation and Recognition for Schools) league table.
Modeshift STARS reward schools that have demonstrated excellence in supporting sustainable and active travel. South Gloucestershire Council has been taking part since March 2020 when six schools achieved the bronze award. There are now 30 schools involved, with one school achieving the highest platinum (outstanding) award, along with two gaining gold (excellent), four silver (very good), 20 bronze (good) and three green (approved).
The Ridge Juniors in Yate improved from gold to platinum having taken part for just two years. The Castle School in Thornbury rose from silver to gold and is the only secondary school in South Gloucestershire at this level. Our Lady of Lourdes Catholic Primary in Kingswood has now risen to silver.
Other schools that have recently joined the increasing number with Modeshift accreditation include Emersons Green Primary, St Mary's Primary in Thornbury, St Michael's Primary in Stoke Gifford and Warmley Park School in Warmley which have all gained the bronze award and Abbeywood and Kings Oak Academy which have gained green.
South Gloucestershire Council will be funding new infrastructure to help support more active travel for schools that successfully gain Modeshift STARS accreditation by the end of the year. Schools that achieve bronze receive £500, silver £3,000, gold £4,000 and platinum schools £5,000.
Schools will be able to choose from a variety of items such as scooter and cycle storage, lockers for pupils, outdoor parent shelters and seating depending on the level of accreditation they achieve. For example, The Ridge Juniors has made changes to their fencing to create an area for cyclists to wait whilst the school gates open and purchased a new cycle shelter and scooter storage as they have more and more children actively travelling to school.
Councillor Louise Harris, cabinet member with responsibility for the climate and nature emergency, said: "Congratulations to all of the pupils and schools that have taken part in this fantastic initiative to encourage more healthy and sustainable travel. I'm pleased that their hard work has been recognised with these impressive awards.
"Working with school staff, the council's sustainable travel team has supported schools to encourage and build on sustainable methods of transport for pupils to get to and from school each day. Those taking part develop a live school travel plan using an online portal and say their journeys have been 'transformed' under the scheme."
Phil Boult, Headteacher of The Ridge Juniors, Yate (platinum award), said: "We are delighted that The Ridge has achieved platinum status for its work on sustainable and healthy travel. It has been a fabulous collaboration with South Glos. Our travel plan leader, Mrs Bev Furber has energised the pupils, parents, carers, staff and local community. Journeys to and from school have been transformed over the last two years. Congratulations to all."
Katherine Wilson, Deputy Headteacher of The Castle School, Thornbury (gold award), said: "The staff and students at The Castle School are absolutely delighted to have been recognised by Modeshift STARS for our Excellent Travel Plan and Modeshift gold accreditation. This recognition comes after a very successful active travel year when we attended the National School Travel Awards Final in London. The staff and students have continued to work very hard, putting in a great deal of effort and commitment to achieving positive change."
Olly Bell, Headteacher of Our Lady of Lourdes Catholic Primary, Kingswood (silver award), said: "We are so proud to have earned our Modeshift silver award! There has been a noticeable shift in positivity towards active travel over the last year, and the children have been at the forefront. They have formed a 'Modeshift Movers' leadership group which has involved meeting with members of the staff team, speaking in assemblies, and helping with displays."