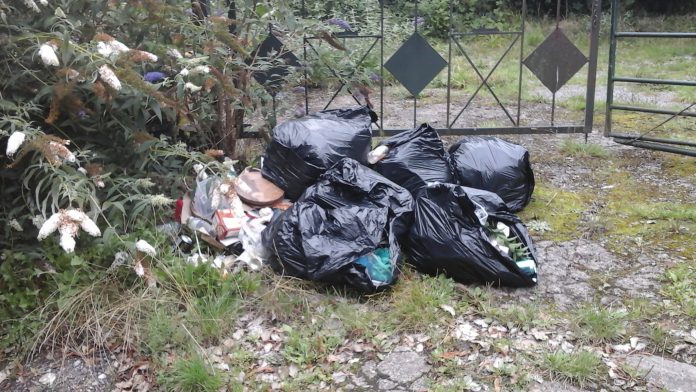 A man from Downend and another from Cardiff have been prosecuted following investigations into separate incidents of fly-tipping by South Gloucestershire Council's Environmental Crime Team.
Sunil Singh, 22 of Buckingham Place, Downend, dumped various bags of household waste at Down Road in Winterbourne during August 2021, despite being entitled to dispose of the waste legally at his local Sort It recycling centre.
Singh was fined £200 and ordered to pay £354 in costs after pleading guilty to fly-tipping at Bristol Magistrates Court. After being cleared, the Down Road fly-tip was examined and evidence was found relating to an address in Holcombe, Radstock.
Officers from the Environmental Crime Team visited the address and established that Singh had previously lived there but had since moved to a new address in South Gloucestershire. It transpired that the fly-tip was discovered less than half a mile from his new home.
Louis Henry 28, of Clos–Y–Gelyn, Cardiff pleaded guilty to fly-tipping at Bristol Magistrates court and was fined £320 and ordered to pay £376 in costs, after a member of the public witnessed him throwing cardboard from the back of a van onto the verge of the A46, Clay Pitch, near Horton, South Gloucestershire, in September this year.
Henry realised he had been spotted and drove off, but the quick-witted witness took the registration number of the van and reported it to South Gloucestershire Council. Henry's vehicle was traced, and he was interviewed by the Environmental Crime Team in relation to the incident.
Henry admitted fly-tipping and stated that he realised he had been seen dumping the cardboard. He knew his actions were illegal, which is why he later returned and removed the waste.
Cabinet Member for Communities and Local Place, Cllr Rachael Hunt said: "There is no excuse for fly-tipping and with these particular cases, a simple trip to the local recycling centre would have meant this waste was disposed of lawfully.
"We will pursue anyone who dumps their rubbish illegally through the courts and we have a 100% success rate for securing convictions for this type of offence. Anyone who fly-tips in South Gloucestershire is five times more likely to be prosecuted than anywhere else in the country.
"In addition to it being illegal, it's plain laziness to dump rubbish in this way and expect others to clear the mess left behind. We hope these prosecutions serve as a warning to anyone else who considers fly-tipping in South Gloucestershire."
Unwanted goods and household or garden waste can all be disposed of at no cost via the council's Sort IT! * Centres https://beta.southglos.gov.uk/recycling-centres
Residents who see illegal fly tipping are encouraged to report it by contacting the StreetCare helpdesk on 01454 868000, emailing streetcare@southglos.gov.uk or visiting www.southglos.gov.uk/flytipping