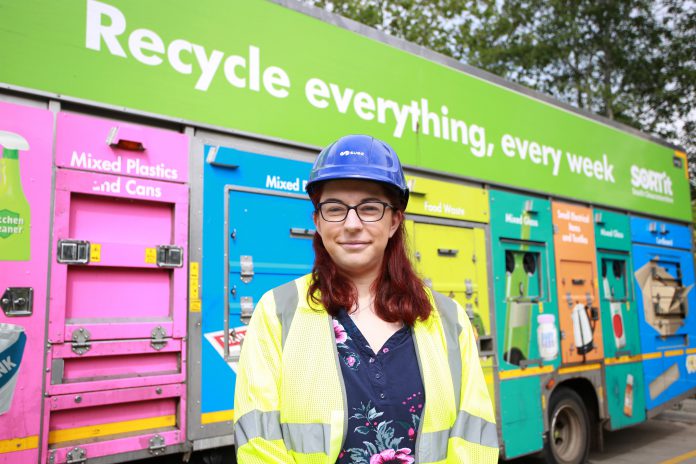 Our Sort It recycling centre at Little Stoke will reopen with social distancing measures in place from Monday 6 July having been temporarily closed due to the COVID-19 pandemic.
Now that social distancing has been reduced to a minimum of one metre, the Little Stoke site will initially reopen with temporary extended hours of 6 am to 4.30pm every day until Monday 13 July when all of our Sort It Centres will revert to normal hours, from 8.30am to 4.30pm.
It has not been possible to reopen the site before the changes to the guidance due to the size and layout of the site.
The staff from Little Stoke were redeployed to support the temporary, extended opening hours at our other three sites in Mangotsfield, Thornbury and Yate but they will now be returning to Little Stoke.
Cabinet Member for Communities, Cllr Rachael Hunt said: "Now that social distancing measures have been relaxed we are pleased to be able to reopen Little Stoke Sort It recycling centre which is our final site to reopen following the coronavirus outbreak.
"All of our sites continue to be busy but now that we can reopen Little Stoke, we hope it will help to ease the pressure somewhat. I continue to encourage our residents to only use the sites if absolutely necessary and if you do need to visit, please sort your rubbish before you go to speed up your visit. After a difficult few months we've been working hard to reinstate the waste and recycling services affected by the coronavirus outbreak and I must thank our residents for their patience and for working with us throughout this period."
With the changes to social distancing rules, the sites will have more parking bays open for residents to use. However, they are still busy, and you should only visit if it is essential to do so while social distancing measures are in place. To help keep traffic moving, trailers are not allowed at any of our sites until further notice.
Little Stoke Sort It recycling centre does not accept any plastics which can be included in household recycling collections, as well as cans, glass bottles or jars, paper, tyres, plasterboard, hardcore or rubble. There is also a 1.8m height barrier at in place.
If you need to visit a Sort It recycling centre, check www.southglos.gov.uk/sortitcentres before your travel for the most up to date information and opening times.