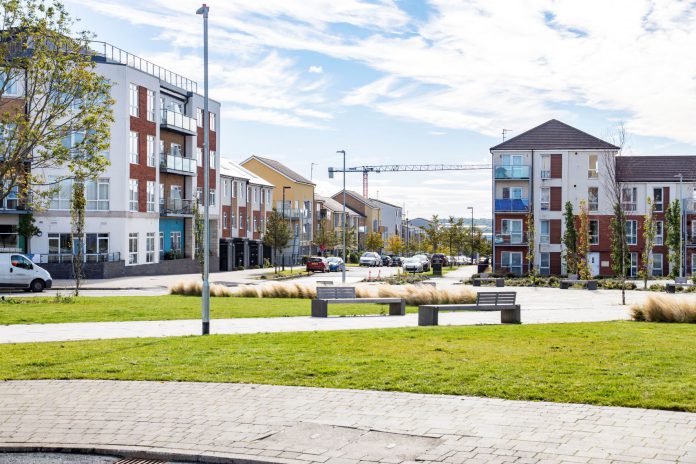 A record 1,650 new homes were completed in South Gloucestershire during 2020/21, despite the impact on the construction industry of the Covid-19 pandemic.
We work closely with housebuilding companies, large and small, to help ensure their schemes fit with the council's aspirations for high-quality, sustainable new homes, which provide a good choice to meet the needs of everyone in our communities and create good, safe and inspiring places for people to live and work.
The latest figures represent a record number of new homes in any year since 2006 and means that more households now have access to homes to rent and buy.
403 of these new homes are classed as 'affordable', including 305 for social renting, eight for affordable rent and 90 for shared ownership schemes. This represents over 40 per cent of the total number of affordable new homes completed in the last year across the West of England.
The new homes have been delivered on both large and small-scale developments, with 1,258 being completed on sites with more than 10 units, and 392 as part of projects of 1-9 new houses.
Both the overall number of new homes and those which are affordable completed in the past year are above our targets and we are pleased that construction in the district has remained resilient. Not only does this keep people employed locally, but offers the prospect of housing being available for the next generation of South Gloucestershire residents close to where they grew up. The growth in available housing supports local businesses to attract and retain staff who contribute to our local economy and strengthens our community.
Cabinet Member for Regeneration, Environment and Strategic Infrastructure, Councillor Steve Reade, said: "There is a strong demand for housing in South Gloucestershire and new homes, well planned for and well built, offering a range of ownership and rental options, helps to strengthen our local communities and economy.
"Despite the challenges faced by us all over the past two years, I am delighted to see that local building work has continued, has outperformed our targets and helped to support not only those in construction, but those who benefit by providing services to that activity.
"We want South Gloucestershire to rise and thrive and the prospect for local people to be able to live locally to where they have grown up is particularly important. For those coming to our area, good quality housing options are as important as the opportunity to work and enjoy the leisure activities and countryside on our doorstep."