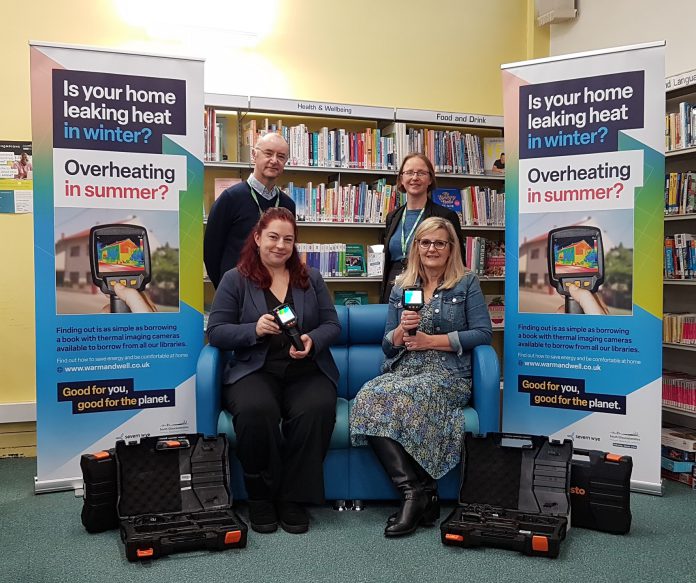 South Gloucestershire Council aims to empower people in the area to save energy by loaning thermal imaging cameras that will help them to identify heat loss around their homes.
The easy-to-use cameras will be available to borrow from libraries across South Gloucestershire, giving households the power and tools to identify areas of heat loss. The cameras come with step-by-step guidelines to ensure residents can make the most of the energy-saving knowledge they provide.
Launching the scheme, Councillor Rachael Hunt, cabinet member for communities at South Gloucestershire Council, said: "We are one of the first authorities in the country to introduce these cameras to borrow from libraries, to help people reduce their energy use by identifying areas where they can take action. Not only will this save people money, but it will help reduce energy use and contribute towards the success of our climate emergency goals here in South Gloucestershire."
The cameras are being supplied in partnership with the Warm and Well service, which is run by local energy charity Severn Wye. They provide an extensive range of energy advice through their freephone adviceline and advocacy services and administer a range of grant funding for energy efficiency improvements. Those who use the thermal imaging cameras in their properties can call the adviceline for advice on dealing with any problems they uncover.
Jacqui Harris, Project Manager at Severn Wye, is enthusiastic about the project. She said: "We're really pleased to be supporting this scheme, which offers something different to lots of the energy efficiency support currently available. Using a thermal imaging camera will give residents an insight into how they can make their homes more energy efficient, but it will also empower them to look deeper into how they can make energy changes at home, and hopefully get back a feeling of control during this energy crisis."
Call in to your local library to find out more about the scheme and take the next step on your energy saving journey. To find your nearest library visit www.southglos.gov.uk/libraries
Warm and Well are holding a series of advice sessions at libraries across South Gloucestershire this November, where they will be available to answer energy-related questions and provide information on current funding schemes. If you'd prefer to get in touch with them by phone, you can call their free adviceline on 0800 500 3076, Monday to Friday 9am-5pm, or get in touch via their website https://warmandwell.co.uk/
For other support and help with the rising cost of living in South Gloucestershire visit www.southglos.gov.uk/costofliving