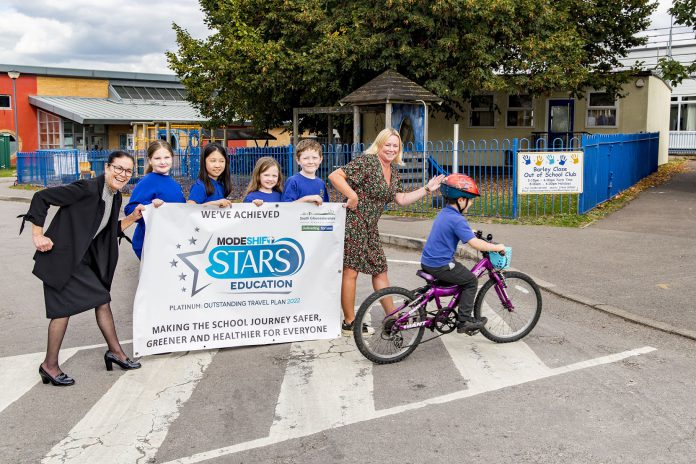 Schools across South Gloucestershire have received top accolades for promoting and encouraging pupils to walk, scoot or cycle to school through Modeshift STARS (Sustainable Travel Accreditation and Recognition for Schools) accreditation and will receive additional council funding for active travel facilities.
In addition to the 13 local schools from the area already involved, nine more have recently signed up to the free national accreditation scheme that recognises schools and other educational settings that have shown excellence in supporting cycling, walking and other forms of sustainable and active travel. Those taking part develop a live school travel plan using an online portal and find ways to encourage more of their students and staff to use sustainable methods of transport to get to school each day.
Each school attaining accreditation this year will also receive additional funding from the council to help build active travel infrastructure such as cycle and scooter storage, lockers, seating, or parent waiting shelters. Schools that achieve bronze receive £1,000, those achieving silver receive £3,000 and gold and platinum schools receive £5,000.
In the most recent round of accreditation, a number of participating schools have been recognised for their efforts with the highest grades available. Barley Close Community Primary School in Mangotsfield is the first South Gloucestershire school to reach the highest level – platinum, and is one of just 51 schools across England to reach this achievement. The Ridge Junior School in Yate is the first in the area to gain gold, one of just 66 schools across England. The Castle School in Thornbury is the first secondary in South Gloucestershire to achieve silver, and the first nursery to receive silver in the area is Natural Choice Nursery in Alveston. Five more schools also gained bronze – Little Stoke Primary, Our Lady of Lourdes Catholic Primary, Old Sodbury CofE Primary, The Meadows Primary and Yate Academy.
The schools have held special awards ceremonies with Councillor Erica Williams, cabinet member responsible for schools at South Gloucestershire Council, where they were presented with a banner to celebrate their achievements.
Councillor Williams said: "I want to congratulate all schools across the area that have signed up for this initiative and there has been a fantastic effort by all involved to encourage safe and sustainable travel options to families. I am delighted that this effort has been recognised with these high-ranking accolades.
"Improving school standards is the council's number one priority and this stems all the way to how we are helping children to adopt healthier and more sustainable ways of getting to school.
"We know that small changes like walking and cycling to school or work instead of using cars and other vehicles can have a big impact on congestion, pollution and improve air quality. Becoming more active also provides significant health benefits and I'm sure more schools across South Gloucestershire will be inspired by the success achieved here."
Barley Close Community Primary School, Mangotsfield – is the first school in South Gloucestershire to gain platinum, the Outstanding Travel Plan award. Over the past four years Barley Close has been working hard on promoting active and sustainable travel to school seeing a reduction of car use from 50 per cent in 2016/17 to 17.5 per cent in 2021/22 and an increase of active travel (walking, cycling, scooting and Park & Stride) from 50 per cent in 2016/17 up to 80.5 per cent in 2021/22, that's a 61 per cent increase. Jo Williams, Headteacher at Barley Close, said: "We are so proud to be awarded platinum in recognition for all our work on sustainable travel, educating our pupils on being active travellers and the impact on them, and their environment. The whole school community is involved in the project and over the last few years it has been great to work together and build on our success year on year.
"We have increased the number of children actively travelling to school and been able to provide more storage for bikes and scooters. We have also been able to continue our partnership with South Gloucestershire Council's Road Safety and Sustainable Travel team to provide training and opportunities for our children on road safety, Bikeability and sustainable travel which is important to our children's future and the school ethos."
The Ridge Junior School, Yate – is the first school to reach gold, the Excellent Travel Plan award. Starting in the summer of 2021 the school quickly reached silver by Christmas 2021 and within the year has reached gold. During the year they've been working on Modeshift STARS, the school has seen a decrease in car usage by 22 per cent and an increase of 10 per cent in active travel. Phil Boult, Headteacher at The Ridge, said: "Everyone at The Ridge is immensely proud that we have achieved our gold Modeshift STARS award, in just over one year. This is due to the amazing effort of the children, parents and staff who have wholeheartedly embraced a more active way of travelling to school, as often as possible.
"In return we have healthier children, both mentally and physically, as well as safer, less congested and polluted roads around our school. Most of all, the children have really enjoyed and benefitted from the fun activities involved and are now looking forward to helping make active travel at The Ridge even better."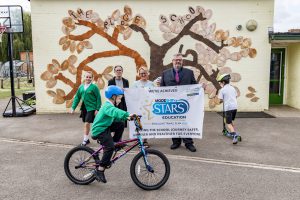 The Castle School, Thornbury – is the first secondary school to gain silver, the Very Good Travel Plan award after receiving bronze in 2021. The school has implemented a range of initiatives encouraging students to travel actively and sustainably with a drop in car usage by nine per cent and an increase in public transport by 28 per cent. Katherine Wilson, Deputy Headteacher at the Castle School, said: "The Castle School is delighted and proud to receive the Modeshift STARS silver award in recognition of its excellence in supporting cycling, walking and other forms of sustainable and active travel. The school has developed its travel plan since achieving the bronze award in 2021 with a dedicated team leading the school community, in conjunction with South Gloucestershire Council, encouraging healthy lifestyles and improving road safety and air quality in the local area, by the promotion of active travel. We are passionate about sustainable travel which is becoming a real part of the culture at Castle School. This academic year we have a group of students who will be Active Travel Ambassadors creating their own campaign advocating for active travel to school."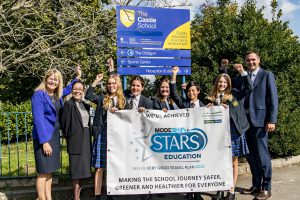 Little Stoke Primary School, Little Stoke – is one of five schools in this round to gain bronze accreditation, the Good Travel Plan award. Dan Ross, Headteacher at Little Stoke Primary, said: "It has been great to come together as a school and work towards more members of the school community using sustainable methods of travel. Following school closures and lockdown, it has also re-started our focus on various workshops in school to ensure all children are taught how to keep themselves safe, whether in school or out moving around in the local area."