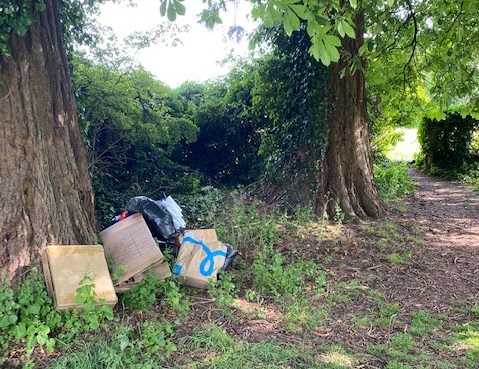 A woman from Yate has been ordered to pay a total of £1,171.88 in fines and costs after South Gloucestershire Council prosecuted her following the discovery of fly-tipped waste in Chipping Sodbury.
Sheena Corbin, 35, of Normead Drive in Yate, pleaded guilty to failing in her duty of care and non-compliance of a Section 108 Notice when she appeared at Bristol Magistrates Court on Friday 19 May.
The court heard that on Thursday 2 June 2022 a fly-tip of cardboard and packaging discovered on a path near St Johns Way in Chipping Sodbury was reported to South Gloucestershire Council. The council cleared the fly-tip and found documentation amongst the waste relating to Corbin's address at Normead Drive, Yate.
Corbin was then spoken to at her home address where she admitted that she recognised the waste, claiming that it had been taken away from her home by a removals man after they had moved her in on 24 May 2022.
The removal man was contacted by the council's environmental enforcement officers and denied ever removing the waste. Furthermore, documentation found at the fly-tip was dated several days after 24 May 2022. A Section 108 Notice was subsequently served requiring Corbin to attend council's offices on 16 August 2022 for interview. She failed to attend, and additionally failed to respond to other messages requesting she communicate with the council.
On the evening of 8 November Corbin was spoken to outside of her home address. She was insistent that the men had removed the packaging found at the fly-tip on the day of the move. It was pointed out that the date on the documentation made this impossible. Corbin was cautioned and asked for an explanation as to how the address label at the fly-tip postdated the removals date. She claimed to be confused but maintained that the removals men had taken away the waste that was fly-tipped. She was then reported for summons to court.
After failing to appear at court a number of times, a warrant without bail was issued leading to her eventual appearance on 19 May.
Robert Evely, Environmental Enforcement team leader at South Gloucestershire Council, said: "South Gloucestershire Council will pursue anyone who dumps their rubbish illegally through the courts and I hope this latest prosecution acts as a deterrent to anyone who considers fly-tipping in the area. Our award-winning environmental enforcement team has a 100 per cent record of securing successful prosecutions for this type of offence.
"We all have a responsibility to make sure that our waste is disposed of in a responsible and lawful manner, including when a third party is involved. This waste could have easily been disposed of lawfully at one of our Sort It recycling centres, but instead it was left discarded by a countryside path where it not only looks unsightly, but could also potentially harm the environment."
Unwanted goods and household or garden waste can all be disposed of at no cost via the council's Sort It recycling centres www.southglos.gov.uk/sortitcentres
Residents who see illegal fly-tipping are encouraged to report it by contacting the council's StreetCare helpdesk on 01454 868000, emailing streetcare@southglos.gov.uk or visiting www.southglos.gov.uk/flytipping