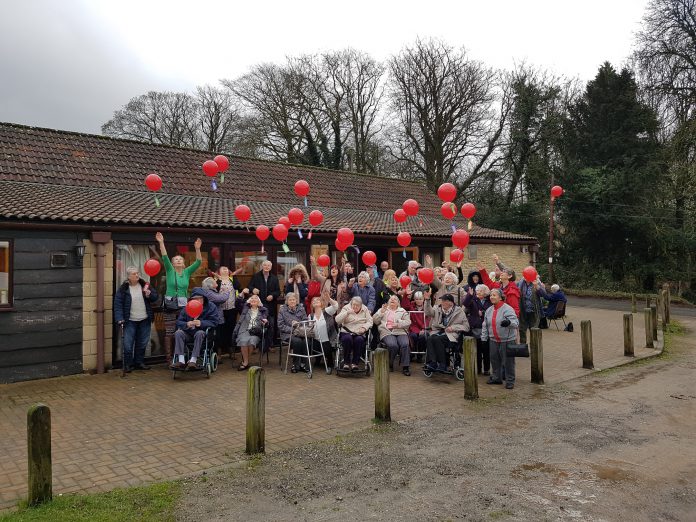 Events and activities are taking place across South Gloucestershire during Dementia Awareness Week (15 to 21 May).
Cambrian Green Day Services, run by South Gloucestershire Council, in Yate are continuing to build on their intergenerational links within the community with service users joining pupils at Old Sodbury Primary School for an afternoon tea party. Service users have been busy throughout the year hand knitting bonnets for premature babies and will be presenting them to the Central Delivery Maternity Suite at Southmead Hospital on Wednesday 17 May. Service users will also be enjoying lunch out at a Dementia Friendly public house in Chipping Sodbury during the week.
A new joint health and social care educational support service for carers in South Gloucestershire is now provided at Cambrian Green Day Services. The service provides day care to people living in South Gloucestershire with dementia along with support for their carers and family members. Taking place on the third Wednesday of every month, 'Real life with Dementia' offers education, training and support for carers of people with dementia who are experiencing increasing difficulties in their caring role. For more information visit www.southglos.gov.uk/cambriangreen

We are also hosting a new event 'Elephant in the Room' as part of Dementia Awareness Week on Wednesday 17 May.
Elephant in the Room is a free event that aims to encourage people to consider, and put in place arrangements for, their future care and support needs. The event will offer practical advice and information to help people feel empowered ahead of a health crisis or change in situation, so they are able to make clear choices.
The event is open to everyone and will cover topics such as legal and financial considerations, information about advance decisions and mental capacity, health and social care options, family bereavement support and funeral arrangements. A representative from Age UK will be speaking and Alzheimer's Society are hosting a stand.
The free event takes place on Wednesday 17 May, from 9.30am to 1pm at Yate Library, 44 West Walk, Yate, South Gloucestershire BS37 4AX. Book online by visiting www.southglos.gov.uk/endoflifematters or alternatively you can email cchengagement@southglos.gov.uk or call 01454 862356 to register your details, request a booking form or obtain further information.
South Gloucestershire Libraries are also supporting Dementia Awareness Week by promoting a collection of books available to people with dementia and their carers.
There are 25 titles on the 'Reading Well Books on Prescription for Dementia' booklist, which have all been recommended by health experts as well as people with first-hand experience of dementia. The list includes books offering information and advice about dementia, support with living well after diagnosis, practical advice for carers, personal accounts, and suggestions for shared therapeutic activities. The 'Reading Well Books on Prescription for Dementia' booklist is available in your local library or by visiting www.southglos.gov.uk/dementia. The books are free to borrow and reserve.
During Dementia Awareness Week, there will be special displays in all local libraries, bringing together useful information about dementia. Staff in South Gloucestershire libraries are trained to be Dementia Friendly and all libraries are accessible for people with disabilities. Further information is available at www.southglos.gov.uk/libraries or ask at your local library.
Other events during the week include two sessions for people to come along and chat about dementia hosted by Alzheimer's Society. These take place on Monday 15 May at Asda superstore, Cribbs Causeway, from 10am to 2pm and Tuesday 16 May at Almondsbury Garden Centre, from 11am to 4pm. Alzheimer's Society are also hosting singalong sessions in Southmead Hospital's atrium (by the grand piano) on Wednesday 17 May at 11am and 12pm.