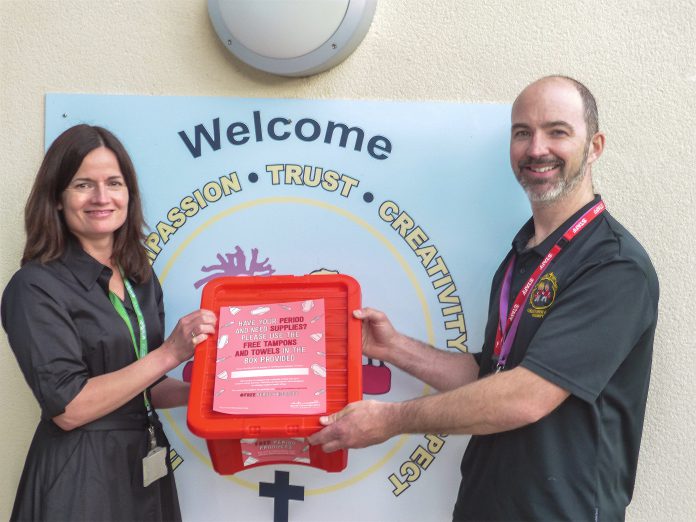 To help tackle period poverty, we have been distributing free boxes of period products and promotional materials to schools in South Gloucestershire through our Public Health period positivity project.
We are providing schools with free period products to help address period poverty, as research has found that 1 in 10 girls in the UK cannot afford to buy period products nationally and an estimated 137,000 are missing school because of their periods (stats from Plan international).
The boxes will be placed in school toilets and all young people will be able to access the products.
We are also distributing information and promotional materials to help improve understanding of periods and reduce any stigma or embarrassment around menstruating in the school environment. 56 per cent of 14 year olds say they are embarrassed about their period and 1 in 7 have received comments about cleanliness.
Director of Public Health Sara Blackmore said: "One in 10 girls between the ages of 14 and 21 in the UK have been unable to afford period products.
"We want to make sure that no young woman in our area misses out on her education because of her period, and are pleased to be able to support them with these boxes of free products."
Cabinet Member for Adults and Public Health Cllr Ben Stokes said: "We want to help tackle this inequality by making these free period products available in local schools, which should also help to see improvements in attendance levels."
Alongside identified funding for the project, both for boxes and products to fill them, South Gloucestershire Council received a large contribution of period products as a donation from registered homelessness charity Caring in Bristol. They had received lots of donations of period products but due to the majority of their service users being men, had too much space taken up by the boxes and kindly passed them on to us to use in this scheme.
Schools involved in the project include:
Secondary
• Bristol Technology and Engineering Academy
• Marlwood
• Winterbourne academy
• John Cabot Academy
• Brimsham Green
• Chipping Sodbury.
Primary
• Barrs' Court
• St Peter's
• Kings' Forest
• Parkwall
• Longwell Green
• Barley Close
• Pucklechurch
• St Chads
• Tyndale
• Woodlands Primary
• Watermore Primary.
If any school in SG is interested in taking part they can contact the Public Health team via healthylifestyles@southglos.gov.uk