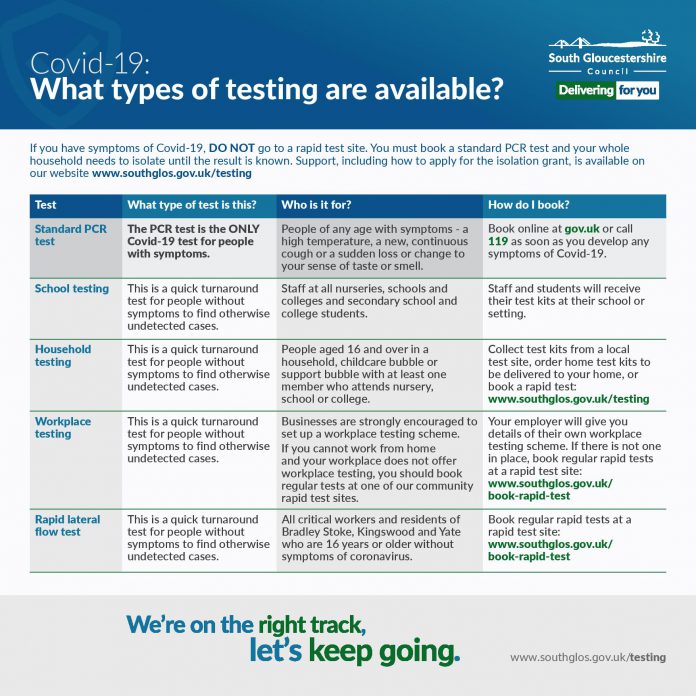 Home rapid Covid testing kits are now available to be collected from six sites in South Gloucestershire. This is in addition to parents of young people attending nurseries, schools and colleges being able to order test kits to be delivered to their home and being able to take a test at one of our existing Rapid Testing sites, in Bradley Stoke, Kingswood and Yate.
As well as children being tested at secondary school or college, we are asking anyone over the age of 16 whose household, support or childcare bubble includes children or staff in a nursery, primary school, secondary school, or college, to take a rapid home test twice a week.
These tests are for people without Covid-19 symptoms only. You can order home testing kits on Gov.UK or book a rapid test (lateral flow) online.
To help families and those living with young people access regular, twice-a-week testing, kits are now available for collection from our Local Testing Sites, seven days-a-week, between 1:00pm – 8:00pm (collection is ONLY available between these times as these sites are used to administer PCR testing for symptomatic people in the mornings):
• Cleve RFC, The Hayfields, Cossham St BS16 9EN
• Yate Courtside Carpark BS37 4DQ
• BAWA Healthcare and Leisure 589 Southmead Road, Filton BS34 7RG
Kits may also be collected from our Rapid Testing sites, seven days-a-week, from 8:30am – 5:30pm (to 7.30pm Mon and Weds) at:
• Bradley Stoke Leisure Centre, Fiddlers Wood Lane, Bradley Stoke BS32 9BS
• Kingswood Leisure Centre, Church Road BS16 4RH (every day except for Tuesday and Thursday)
• Yate Parish Hall, Station Road, BS37 4PQ
No appointment is necessary to collect kits and individuals may collect a maximum of two boxes of seven kits.
Testing for those without symptoms is a key part of the road map outlined by the Government that we are all following towards the easing and eventual lifting of restrictions. It complements the roll out of the vaccine, effective contact tracing when positive cases are detected and everyone's continued following of the guidance, including Hands Face Space.
By making regular testing part of our routine as we progress towards each milestone on the road map, we will be able to identify more cases among those who do not have any symptoms of the virus and so who could be unknowingly spreading it to loved ones and into the community.
Rapid testing is already available for:
• Anyone who cannot work from home
• Those living or working in Bradley Stoke, Kingswood or Yate, where our testing sites are located
It has now been extended to include anyone over the age of 16 who:
• Has a child at nursery, primary school, secondary school or college
• Has a childcare or support bubble that includes a child at secondary school or college
• Lives with, or has a childcare or support bubble with someone who works at a nursery, school or college
• Works or volunteers at a nursery, school or college and can't access testing through school programmes
South Gloucestershire Director of Public Health, Sara Blackmore, said: "Testing is hugely important so that we can continue to be vigilant against Covid-19. As we begin to ease restrictions, staff in nurseries, schools and colleges are all being regularly tested. Secondary school and college students are also being tested twice a week and more and more workplaces are introducing routine testing to help keep their businesses safe.
"We want everyone eligible to take regular tests, which is why it is important to make them as widely available as we can. In the near future, more groups of people may be asked to take part in regular testing, and it is important that we make this part of our routine. The aim is to find people who infected with the coronavirus but do not have any symptoms, and to stop the spread. That will help keep us all safer and mean that we can continue along the road map."
Rapid testing is available to those without Covid-19 symptoms ONLY. If you develop any of the main symptoms of Covid-19: a high temperature; a new, continuous cough; and/or a loss or change to sense of smell or taste, you should book a PCR test online or by calling 119.
Government guidance says that people with symptoms of coronavirus should book a test, only leave their home to have the test and isolate until they receive the result. When you receive notice of the test result you will be advised what to do next, but anyone testing positive for Covid-19 is required by law to self-isolate for 10 days.