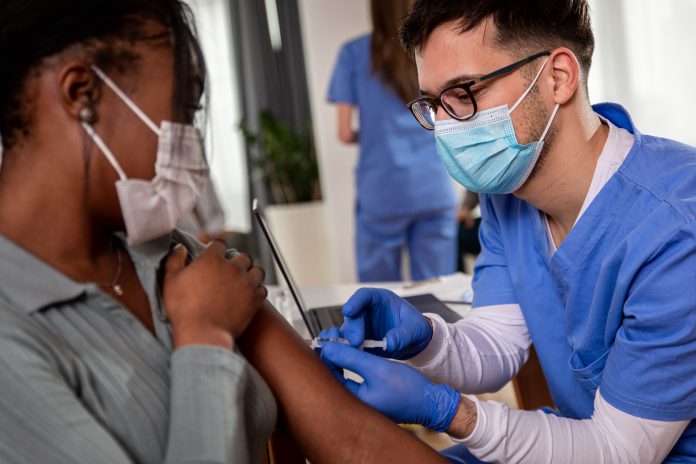 On 7 July 2021, the Bristol, North Somerset and South Gloucestershire (BNSSG) Vaccination Programme will open a new large scale Vaccination Centre at the Conference and Exhibition Centre on UWE Bristol's Frenchay Campus. The 'Vaccination Centre @ UWE Bristol' will have a capacity of up to 1,000 vaccinations a day and makes use of the decommissioned NHS Nightingale Hospital Bristol facilities.
The Vaccination Centre @ UWE Bristol will sit alongside our existing GP, community pharmacy and Ashton Gate vaccination sites. It will increase vaccination capacity across BNSSG as we race to protect as many people as possible from the Delta variant of COVID-19 before any planned easing of Lockdown. It will also allow us to bring forward more vital second dose vaccinations from 12 weeks for those eligible, to offer people in our region the best possible protection against hospitalisation from COVID-19.
The Centre has a large free car park and is easily accessible by car from much of BNSSG, while the UWE Bristol Campus is a 15 minute bus journey from central Bristol.
Dr Tim Whittlestone, Clinical Lead for BNSSG Vaccination Programme, said: "Although we are making good progress in BNSSG, we still have hundreds of thousands of first and second dose vaccinations to give. The Vaccination Centre @ UWE Bristol will increase our capacity to ensure we reach the deadline of offering all adults a first dose of COVID-19 vaccine before 25 July.
"If you have been putting off booking your appointment, please don't delay. We have lots of first dose vaccination capacity at the moment on the National Booking System, in GP clinics and at walk-in centres. We're working hard to make it as easy as possible for everyone in our region to take up the offer of a vaccination by offering as many options as possible. Please book your appointment, now."
Leader of South Gloucestershire Council Cllr Toby Savage said: "We are proud to be supporting BNSSG with the vaccination programme in our area and I am delighted that the new mass vaccination site will be located at UWE within South Gloucestershire. It is so important to have both doses of the vaccination to gain maximum protection and this will make it even easier for our residents to access a main site when booking through the National Booking System. Of course there are also other options available too – you can also arrange your jab through your GP clinic or attend one of the various walk-in centres."
Professor Steve West, UWE Bristol Vice-Chancellor, said: "We are proud to be able to help the regional and national effort to get people vaccinated so that, as a country, we can be in a far stronger position for the planned easing of lockdown. The University enjoys an extensive relationship with the regional NHS, and we place great value on being part of the community and making a difference."