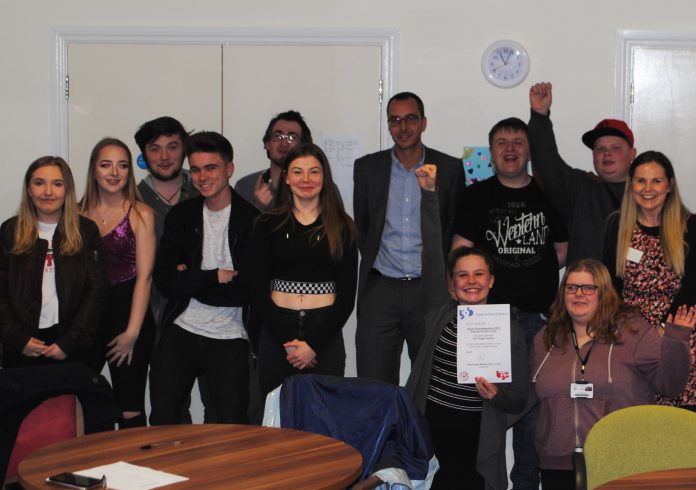 A group of young people from South Gloucestershire have been recognised with an award from the British Youth Council for their work to give care leavers an initial relief from paying council tax.
The award winners were The Experienced Panel in Care (EPIC), a group of young people and adults aged from 15 to 25-years-old who are either looked after or a care leaver within South Gloucestershire.
The group represent the views and opinions of young people in care, and leaving care, within South Gloucestershire and also campaign on issues that affect them such as council tax.
As a result of EPIC's work, from 1 April 2018, South Gloucestershire Council (SGC) are supporting care leavers aged between 18 and 21 by assisting them in the payment of their statutory council tax obligations.
EPIC were awarded the Inspiring Project Award, which recognises the efforts made by projects to engage young people and give them a voice.
The certificate was presented by Cllr Jon Hunt, Cabinet Member for children and young people, at the Youth On Board awards event that was held in at the Kingswood Centre in South Gloucestershire on Tuesday 17 April.
Cllr Hunt said: "Congratulations to EPIC on this well-deserved award in recognition for their work to help care leavers in South Gloucestershire.
"We were delighted to be able to make the decision at our full council meeting in February that South Gloucestershire Council will pay the council tax for all care leavers up to the age of 21 in our area for the next year.
"We understand that it can be difficult for young people leaving care and are very pleased to be able to offer this support, which should help relieve some financial pressure as care leavers move into independence."
Anthony from EPIC said: "I'm glad that things are moving forward for people leaving care."
David from EPIC said: "It hopefully should relieve some financial issues for young people."
Candice from EPIC said: "I am really proud we have won the award and happy that people can see the work we do."
To keep up to date with all the latest news from Teen Care Council (TCC), EPIC and the Virtual School follow them on Twitter www.twitter.com/southglosCIC