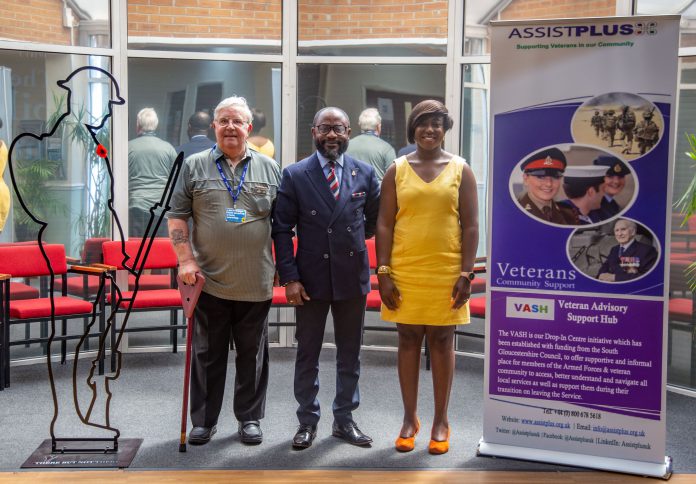 New Veteran Support Services, commissioned by South Gloucestershire Council, have been launched to provide help to local men and women who have served in the country's armed forces.
Many ex-military personnel and their families live happily and well in South Gloucestershire, but we know that for some, the transition to civilian life can be difficult. We have therefore allocated £30,000 over the next two years, to commission both ASSISTPLUS and SSAFA the Armed Forces charity to provide help to those who need it, so that after their service they can enjoy the opportunities and benefits of being part of our community. They will jointly run a veteran support hub to reach out to vulnerable and isolated veterans in their own homes or within our communities.
Cabinet Member for Public Health and Equality of Opportunity and former serviceman, Councillor Franklin Owusu-Antwi, joined the team today for the inaugural drop-in session at the Jubilee Centre in Bradley Stoke, Having visited the service in Patchway earlier this month as the council's champion on veterans affairs, to meet the staff providing the support and see first-hand the help that is available to veterans.
For veterans and their families, the support, part of our commitment to give meaning and benefit to our veterans under the Armed Forces Covenant, will take the form of monthly peer support sessions, advice and where it is needed, case work to help former service personnel identify their needs and connect to the right support, particularly in relation to education, healthcare, housing and employment. Individuals can access the service in person through the Patchway One Stop Shop and in the Jubilee Centre in Bradley Stoke; and also by telephone and digital means.
The aim is to build awareness of the services available locally to ex-armed forces personnel so they can identify and engage with those that meet their particular needs, helping them to help themselves. Where they need help to access these supports, it can be provided.
He said: "We have a duty under the Armed Forces Covenant to support our former service personnel and from my own experience of making the transition from army life to being a civilian again, I know that help is greatly appreciated.
"From moving to an environment where everything is strictly set out for you, to now needing to find housing, childcare, schooling for your children, it can be a major shift. The services are there, but the support we are funding through ASSISTPLUS and SSAFA will help our veterans who need help to navigate their entry into a new life, the signposts they need to make a success of the next chapter in their lives.
"I was delighted to visit the services being made available to our veterans across South Gloucestershire at the hubs in Patchway and Bradley Stoke to see them in action first-hand and to meet fellow veterans and hear their stories. I know this resource will be a real benefit to those who have given their service to others during their military careers and for whose bravery we will always be indebted to."
In addition to providing direct support to veterans, ASSISTPLUS and SSAFA will provide strategic expertise to the council so that we can best understand the needs of ex-service personnel in developing and delivering our services.
Dawn Civill Williams (SSAFA Branch Chair, Bristol & South Gloucestershire), said: "SSAFA Bristol & South Gloucestershire branch are an armed forces charity who assist veterans, reservists, serving members and dependants of HM Armed Forces. We are the longest established military charity who assist beneficiaries who may be in distress or need.
"We are non-judgmental and work closely with external partners such as local authorities, AGE UK, other military charities, Regimental Associations, Royal Naval Association, Royal Air Force Association, South Gloucestershire Citizens Advice, Veterans Housing Associations, HM Prison and Probation and Dept for Work and Pensions, working collaboratively to ensure the best outcome on behalf of our beneficiaries.
"Our one-to-one case working service instils dignity, inclusion and more importantly empowers beneficiaries to take control of their lives and move forward in a positive way. SSAFA also has a dedicated mentoring service that supports clients newly transitioning from the armed forces and prison."
Dorothy Danquah from ASSISTPLUS, said: "Working in partnership with local authorities, businesses and other service charities, we aim to enhance the implementation of the Armed Forces Community covenant in South Gloucestershire and surrounding areas. Our Drop-In Centre initiative has been established with funding from South Gloucestershire Council to offer a supportive and informal place for veterans' community and their families in to access, better understand and navigate local services.
"Together with SSAFA and other services charities, we will achieve greater visibility in the veteran support chain in South Gloucestershire and surrounding areas. We bring together the various support organisations to understand the kind of core community issues veterans face locally, deciding which are most important and what actions can be taken collectively adding value to the day-to-day work undertaken by individual stakeholder."
For more information contact: