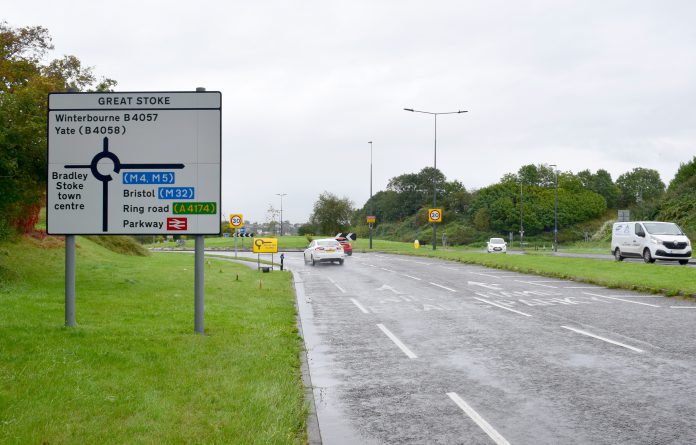 We are investing £160 million over four years to reduce congestion and emissions, improve cycling and pedestrian routes, facilitate faster bus journeys and future proof our road network.
Highway improvement schemes are planned across the district and the aim of this ambitious programme of work is to get our road network ready for major new housing and business developments in the area, as well as making sustainable travel options a more attractive choice so that we can keep people moving now and in years to come.
A significant part of this programme is taking place in Stoke Gifford, with the Great Stoke Roundabout improvement scheme and the Cribbs Patchway metrobus extension (CPME). Work has already begun on both of these projects, but over the next 12 months further traffic management measures will be put in place to enable the work to continue, including the approximately eight-month closure of Gipsy Patch Lane at the railway the bridge, from early March 2020.
CPME is an extension of the metrobus network already in operation and will provide a direct link between Bristol Parkway railway station and The Mall bus station, via the Cribbs Patchway New Neighbourhood developments on the former Filton Airfield.
The £57 million project includes replacing the railway bridge over Gipsy Patch Lane with a new wider bridge. This will enable shared use cycle and pedestrian pathways and a bus lane in each direction alongside general traffic. The scheme will also include footway widening and new bus lanes along other sections of Gipsy Patch Lane.
The current bridge creates a traffic bottleneck causing queues on Gipsy Patch Lane. The new bridge will relieve this pinch point, allowing for reliable bus journey times, as well as providing improvements for pedestrians, cyclists and private vehicles.
Overall the project will bring significant benefits for everyone once the work is complete, leading to smoother flowing traffic, whether you travel by bus, car, cycle or on foot.
Work will also be carried out at the San Andreas roundabout at Cribbs Causeway, where a new bus only road link will be added and the roundabout will become signal controlled. San Andreas roundabout is at the junction of Hayes Way and Highwood Road with Merlin Road. On Hatchet Road we will also be upgrading two bus stops to metrobus stops.
Major roadworks
The Gipsy Patch Lane closure will allow the replacement railway bridge to be moved into place and for other required improvements to be made. As part of this work the junction of Station Road with Gipsy Patch Lane also needs to be closed to motorists for periods of time. Pedestrians and cyclists will still be able to access Station Road throughout the work. Exact dates of these road closures and information on diversion routes will be publicised in advance.
To enable work to be carried out at the San Andreas roundabout there will be lane closures for approximately 12 months. This work will start from February 2020.
Along Hatchet Road we will need to use temporary traffic lights during off-peak hours. This work is expected to start in the spring and last approximately three months. Again, details of any disruptions will be publicised in advance and planned diversion routes, where needed will be clearly signposted.
We are also working on a scheme to increase capacity and improve safety for cyclists and pedestrians at nearby Great Stoke roundabout. Known locally as 'rabbit roundabout', this is the junction of Bradley Stoke Way and Great Stoke Way with the B4057 Winterbourne Road. The £2.9 million scheme is being funded by the West of England Combined Authority and Local Enterprise Partnership through the Investment Fund, administered by the West of England Combined Authority.
Most of this work will require the use of narrow lanes, which will be in place 24 hours a day and lane closures which will be restricted to times when traffic volumes are lower to minimise disruption.
Drop-ins
We know that any disruption on the roads is an inconvenience, but these projects are required to improve the roads in the long term, for all users. To help keep local people informed about all highway improvement works taking place in the area this year, we are holding a series of public drop-in events:
Wednesday 22 January 4pm to 7pm
Little Stoke Primary School, Little Stoke Lane, Little Stoke, Bristol BS34 6HY
Saturday 25 January 11.30am to 2.30pm
Little Stoke Community Hall, Little Stoke Lane, Little Stoke, Bristol BS34 6HR
Monday 27 January 4pm to 7pm
St Michael's Centre, North Rd, Stoke Gifford, Bristol BS34 8PD
Thursday 30 January 4pm to 7pm
Baileys Court Activity Centre, Baileys Court Road, Bradley Stoke, Bristol BS32 8BH.
Officers from the council will be available to answer questions, along with representatives from Network Rail and Alun Griffiths who are the lead contractors involved with the CPME project. Everyone is welcome to attend, there is no need to book. Please note these are drop-in sessions and you can attend at any time during the session.
On Saturday 25 January members of the TravelWest Team will be on hand at the Little Stoke Community Hall event offering advice on alternative, active and sustainable travel options. They will also be able to help with journey planning.
We understand that the work we have planned will have a major impact on traffic in the nearby and wider area. We apologise in advance for this inconvenience and would like to assure everyone that we are doing everything we can to minimise disruption to residents, businesses and road users.
Cabinet Member for Transport Cllr Steve Reade said: "CPME and the work taking place to improve Great Stoke roundabout are vital transport projects that are part of a £160 million package of schemes the council is investing in that will keep South Gloucestershire moving.
"By carrying out this work now we are future proofing our road network, preparing the area for the new housing that is due to be built, as well as improving facilities for cyclists, pedestrians and public transport users, as well as helping to reduce traffic and congestion in the long term.
"We know that our roads are already busy and we are working hard to reduce any disruption whilst the work takes place.
"We are carrying out work on the Great Stoke roundabout at the same time as the Gipsy Patch Lane closure and while we know this overlap will cause a significant impact on traffic in the area, we have designed the work programme to reduce the overall length of disruptions, rather than impacting the same area with project after project. We thank you in advance for your patience."
Further information about all highway improvement schemes in South Gloucestershire is available at www.southglos.gov.uk/majorroadworks. Residents can also sign up for email updates on our website.