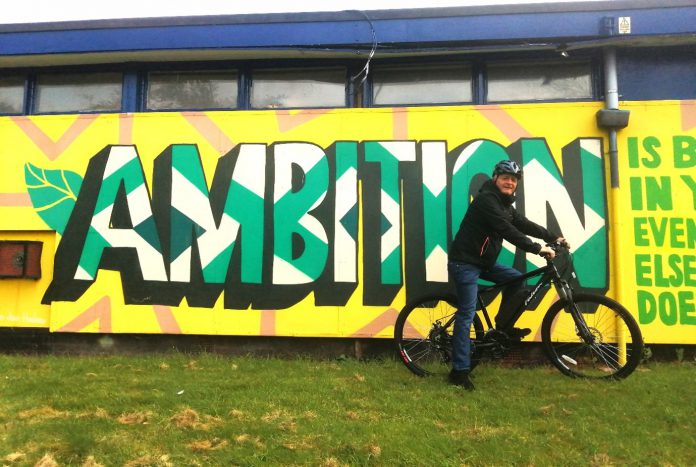 Businesses in South Gloucestershire received over £18,500 worth of match-funded grants to provide and promote sustainable and active travel solutions for their employees during South Gloucestershire Council's latest round of 'Active Travel Grants'.
The grants were awarded as part of the Travelwest initiative, which promotes active and sustainable travel and were launched at the beginning of September. Travelwest offered each business which applied a 50 per cent match-funded grant of up to £10,000.
Businesses receiving grants included Jelibaby, a sole trader who is purchasing an electric bike to travel to clients and replace at least four car trips a day; Bristol and Bath Science Park who are using the grant to install additional electric vehicle charging points so employees can charge their electric vehicles at work; a medical centre and bakery who are using the grant to purchase cycle storage facilities so employees can cycle to work and store their bikes safely, and South West Ambulance Service who are providing clothing storage at Almondsbury, Yate, and Soundwell stations so people can walk, run, or cycle to work without carrying a change of clothes.
South Gloucestershire Council's Cabinet Member for Regeneration, Environment and Strategic Infrastructure Cllr Steve Reade said: "We had a fantastic response to our latest grant offers, which is really encouraging as it shows local businesses are committed to promoting sustainable travel in their workplaces.
"We all need to do our bit to reduce our carbon footprint and these initiatives incentivise businesses to support their employees with environmentally friendly travel choices. We know active travelling is good for both mental and physical health and travelling sustainably also contributes to a healthier environment so it's a pleasure to be able to help local businesses provide these options."
This round of grants follows on from another successful round in July when Travelwest provided an e-bike to social enterprise Severnnet who loaned it to Mark Pepper, Community Leader at Ambition Lawrence Western Community Centre, to encourage others to travel actively.
Mark said: "I am extremely pleased with the bike's performance. It allows me to exercise to the point where I can feel the burn in my legs without being too painful. Hills are now something I look forward to cruising up."
Mark has also experienced benefits past the physical, now feeling safer in his commute: "The e-bike allows me to maintain a better speed when travelling in flowing traffic and this helps me feel a lot safer. I would recommend an e-bike for all ages and abilities, it has brought fun and fitness back into travelling."
Travelwest is pleased to hear of the positive ways that businesses have used the match funded grants to implement active and sustainable travel. As the project comes to an end under the fourth year of its operation, it is hoped that measures put in place will continue to foster positive change in travel patterns for a more active and sustainable future.
For more information visit https://travelwest.info/