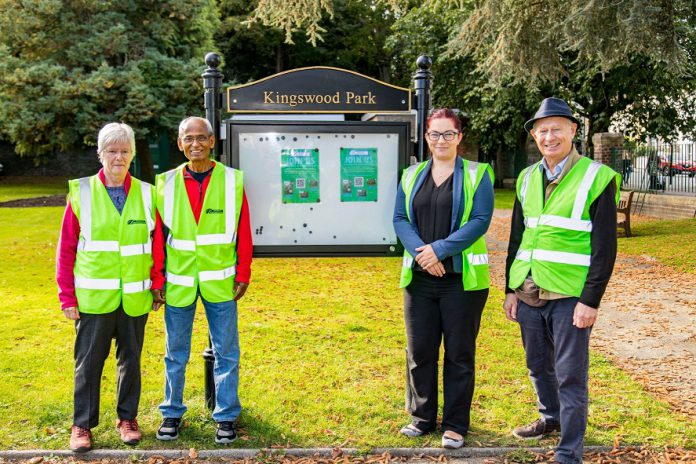 South Gloucestershire Council and The Friends of Kingswood Park have successfully secured development funding of over £120,000 from The National Lottery Heritage Fund in the first phase of an exciting £2.5m project to restore and enhance Kingswood Park.
The initial funding grant has been awarded following an application submitted in May and will enable us to develop our proposals to apply for a full grant of over £2m, in 2022.
It aims to restore Kingswood Park so it forms the green 'heart' of Kingswood, an open space where people can go to enjoy high quality facilities, outdoor events and activities while meeting others in a relaxing and safe, well managed and welcoming environment.
As well as fully restoring the park, an extensive range of activities and events will be developed that will enable more people to become connected with the history of the local area, while promoting greater enjoyment and appreciation of the park's heritage and values.
The restoration of the park forms part of wider plans to rejuvenate Kingswood, with restoration of Whitfield Tabernacle, the Council purchase of the Kings Chase shopping centre and improvements to local roads either complete, underway, or with funding secured. An overarching Masterplan has also launched which will set the direction of investment into Kingswood town centre in the coming years.
South Gloucestershire Council Cabinet Member for Communities and Local Place, Cllr Rachael Hunt said: "Securing this funding is a significant step forwards with our ambitious plans to comprehensively restore and enhance Kingswood Park for the enjoyment and benefit of the local community.
"The Friends of Kingswood Park group have already made a big contribution towards improvements and this funding bid reflects the enthusiasm and passion that local people have for the Park. We want to build on the successes of previous activities and events so more people can enjoy this much-loved community asset.
"It is an exciting time for everyone in Kingswood with the £25million regeneration vision for the Town Centre following our successful application through the Future High Streets Fund, the purchase of Kings Chase Shopping Centre and the restoration of the Whitfield Tabernacle."
Jim Whittaker, Secretary of the Friends of Kingswood Park, said: "We are overjoyed that this funding has been secured from The National Lottery Heritage Fund. Although it's the first round it's an important development to take things forward. The Park was a stalwart during Covid and was a place that people could enjoy relaxation and refuge and many will benefit from this enhancement project."
The main aims of the Kingswood Park restoration project are to:
• encourage more and wider range of people, voluntary groups and schools to use and celebrate the park heritage with more events and activities
• improve facilities for all including new play equipment, better access and toilets
• look at opportunities to provide a new park refreshment facility
• restore paths, walls, masonry and other features
• share the heritage of the park and research its history
• contribute to the regeneration of Kingswood Town Centre
• improve the park landscape and biodiversity
• make park management carbon neutral
If you would like to get involved and find out more about the Friends of Kingswood Park visit www.facebook.com/ourkingswoodpark
To find out more about the work underway to regenerate Kingswood visit: https://www.southglos.gov.uk/business/regeneration/love-high-streets-kingswood/