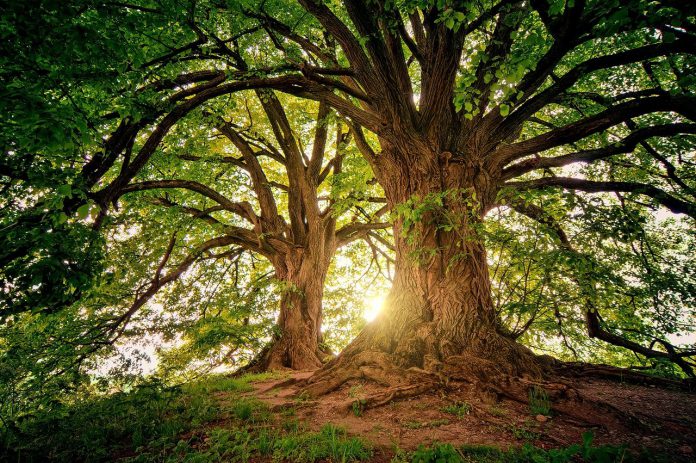 It's National Tree Week (Saturday 27 November – Sunday 5 December) and our tree voucher giveaway is back. We are working with three local tree nurseries and the Forest of Avon to promote tree planting at home, with 250 free vouchers available for residents to claim and plant their own tree.
We are aiming to plant enough trees by 2030 to double our tree canopy to improve biodiversity and keep our local environment healthy as part of our response to the Climate and Nature Emergency.
Early scoping of tree planting opportunities locally has shown there is enough suitable space in South Gloucestershire to plant enough trees to meet our targets and we have identified 30,000 locations for planting on council owned land. However, much of the land suitable for tree planting in our area is owned privately so it is important that we work with landowners, partners and planners to highlight locations for tree planting and make the land available.
Trees are essential to life on our planet; they remove harmful carbon dioxide from the air and produce oxygen, they provide food, support wildlife, provide shade and even help to prevent flooding and soil erosion.
The urgency of preserving and restoring trees on a global scale was a significant part of COP26 in Glasgow, where leaders from 100 nations pledged to end deforestation by 2030 and to start reforestation, in a landmark agreement that includes some 85 per cent of the world's forests.
Cabinet Member for Regeneration, Environment and Strategic Infrastructure, Councillor Steve Reade, said: "Locally, we are committed to becoming carbon neutral by 2030 and Tree Week provides us with an opportunity to highlight the vital importance of trees to our local, national and global environment.
"Everyone needs to get involved in making changes and restoring nature; individual action is just as important and effective as that of large organisations, governments and businesses. The simple act of planting a tree or donating a tree to the Forest of Avon contributes to positive environmental action, not only for our own benefit, but for our children, grandchildren and future generations."
To claim a free tree voucher, visit www.southglos.gov.uk/treeweek and follow the instructions. For more information about tree management in South Gloucestershire visit www.southglos.gov.uk/trees.