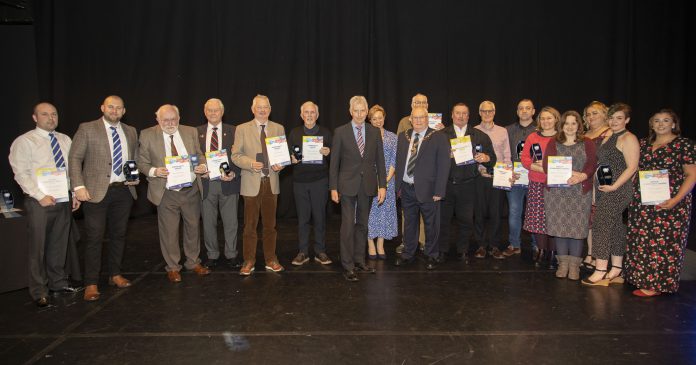 Unsung heroes from across South Gloucestershire were presented with a Chair's Community Award at South Gloucestershire and Stroud College's WISE Campus this week (Wednesday 4 March).
The annual awards are held to recognise and celebrate the valuable contribution that local unpaid volunteers make to life in South Gloucestershire.
These people willingly give up their time to help others and bring our communities together, and they were rewarded for their efforts at the special ceremony.
Chair of South Gloucestershire Council, Cllr Brian Allinson attended along with the Lord Lieutenant of Gloucestershire Edward Gillespie, Group Chief Executive & Executive Principal of South Gloucestershire & Stroud College Kevin Hamblin and Principal and Deputy Chief Sara-Jane Watkins.
Throughout the evening award winners from across South Gloucestershire and from a wide variety of backgrounds, were presented with their certificates by Cllr Allinson and Sara-Jane Watkins.
Roger Humphries was presented with a Chair's Community Award for always looking to go the extra mile in his role as a volunteer driver with Kingswood Community Transport. Roger takes immense pride in the condition of the minibus and regularly works five days a week, significantly helping to reduce loneliness and isolation in the local community.
Cllr Brian Allinson, Chair of South Gloucestershire Council, said: "The people here today are stars of South Gloucestershire and it is a pleasure to be able to recognise them for their dedication and community spirit.
"They embody everything that is positive about our local communities with their selfless contributions and I'd like to thank them personally, and on behalf of South Gloucestershire Council for helping to make South Gloucestershire the wonderful place it is.
"It is extremely uplifting and encouraging; one of the highlights of my role is to be able to honour our award winners here this evening."
The final round was the Lord Lieutenant's special award, which saw Edward Gillespie present £100 to Keith Player of Hawkesbury Show committee. Keith has been a figurehead at the show for many years, helping it to develop, providing stability and inspiring young people. Keith also liaises with his Parish Council on running their portfolio of allotments.
College Principal and Deputy Chief Executive, Sara-Jane Watkins said: "SGS College are proud to sponsor and host the inspirational South Gloucestershire Community Awards and celebrate the superb work of some truly outstanding community volunteers across our region."
Our annual awards event is sponsored by South Gloucestershire & Stroud College and offers an opportunity to celebrate the hard work and dedication of volunteers in our communities who display outstanding commitment in giving up their time and effort to help others.
The evening also featured students from the Level 3 Musical Theatre group, based at WISE campus of South Gloucestershire and Stroud College, perform songs from Les Miserables.